Andy's Sting In The Tale (02/04/2021) "On The Wembulee Trail"
Date: 2nd April 2021
Good news today about the Tartan Army being allowed into Wembulee in just 77 days.
Sandy Ceferin at Uefa told me this morning that he saw no reason why the usual Uefa quotient of 16% of tickets to away fans would be changed.
He also asked me to confirm that his Euros team has no intention of interfering in the detail being discussed between the 12 host nation governments and their country FAs.
He just needs 30% capacity in grounds, as a minimum, guaranteed for each and every match.
That's for starters because in reality his Uefa want and need more.
Populism Versus Science
April 7th is Sandy's big date and is as close as next Wednesday. There is a big circle in red on his Colin Baxter wall calendar below the picture of the Trotternish Ridge in Skye.
This Uefa imposed deadline is when the 12 Euros venues and their governments have to guarantee that fans will be present at the 4 games most stadia including Hampden will host, (7 at Wembley including both semis and the final).
With Europe right now in deepening and endless Covid Chaos with little certainty let's compare our three closest venues and their politicians: Boris, Nicola, and Micheal Martin, Taoiseach over the North Channel and down a bit.
Boris in his populist corner has already guaranteed that fans will be present in his England.
He is so confident that he has also offered to host the whole tournament.
Nicola I have been told is in the 'cautious but hopeful camp' and Michael Martin, in a land of far fewer current vaccinations, is in a more difficult place.
There are rumours that Euros at Hampden will sneak Sandy's approval but that Dublin is in trouble and under severe pressure.
"All because Uefa see profit as more fundamental than crowd health or safety".
Boris's Crowd-Pleasers
Currently Wembley's opening gambit and guarantee is just 10,000 fans under current protocols and plans.
But Uefa need at least 27,000 bums on seats for their numbers to work.
So surprise, surprise there are already plans underway to immediately increase the 'protocol-led' capacity to 20,000 and then up a bit more too.
And as optimism (over-optimism?) grows in England the team at the FA is now saying that by June 21 the gate could be lifted to circa 50,000.
That kind of guarantee makes Sandy Ceferin and his team happy bunnies especially the accountants.
So right now all you can do is guess how many Wembulee briefs will actually be heading up north.
Officially we get 16% of whatever the agreed capacity will be so for now 1,600 is a starter for 10 but more seem likely.

The stark reality is nobody knows how many of the 12 hosts are overpromising like Boris and will have to adjust or how many venues will be crowd-less or even have to be dropped at the 11th hour.
Heading Our Way – The Politics of QATAR 2022
Awarding the tournament, changing it from the unplayable summer heat to winter, ignoring how the venues are being constructed and other things like normal social inclusiveness are prime examples of Fifa, power, egos and corruption at its worst.
Football has now broken out with the qualifiers for Qatar well underway.
Sadly Scottish points have been dropped and listening to the media after we finally won I kept hearing how we hammered the Faroes, were now second in our group and that all was going well and to plan.
As a half-full personality I really get the positive approach and the table shows we are indeed second in our group.
However we were fortunate against Austria, Israel deserved their point against us and we did win to well against the Faroes with Tierney, McGinn and others outstanding.
No doubt too that we are getting better and progress is being made under Stevie.
But the Faroes have the same population as Kirkcaldy.
We have also now conceded that our only option to qualify will be the play offs and come second to Denmark who top our group and took apart a fine Austrian side.
Not an easy route.
In the meantime did you know that in the decade since FIFA somehow 'contrived' to award Qatar the World Cup an estimated 7000 migrant workers have died on construction projects there including the world cup sites.
The Qatar official figures currently say there have been only 3 work-related deaths and 35 non–work related (whatever that means), attributable to their World cup Construction sites.
Nobody believes these official figures even at Fifa.
The reality is workers in Qatar get treated disgracefully and health, safety and human rights just don't exist.
Fifa has been compromised since the award decision and the reality is players will be playing in stadia built by workers under unacceptable standards.
And Fifa has been posted missing all along.
But the football family cares and can do something about it.
Anger is growing.
Last week the German, Norwegian, Dutch and Danish came out publicly against how Qatar treats its imported workers.

Mattjis de Ligt, Juventus young Dutch international centre-back called for action from other countries and players unions to discuss how to work together saying.  "We cannot remain indifferent and do nothing".
Scotland is not even on the bus yet.
Some of us also remember Stewart Regan backtracking in 2015 after the SFA had instigated "The Qatar Airways Cup" and announced plans for more links.
Fritz Keller the German FA President was quoted saying "It is good when our national team commits to the values of our liberal democracy. You don't play with human rights. They are non-negotiable and universally applicable".
Maybe Maxie or Rod said something too that wasn't reported.
No, maybe not.
Breaking News
That was the headline for a nice wee April fool from Methil yesterday. @eastFifeFC
"East Fife are delighted to announce, that starting from next season (2021/22), East Fife U20s will be rebranded to East Fife FC-Colts. The EF Colts will start next season straight into an expanded @spfl league 2.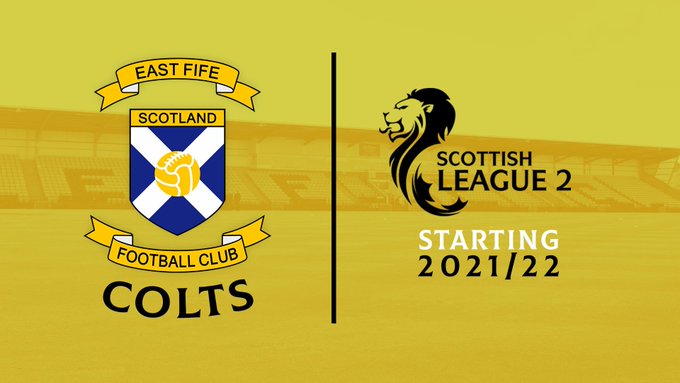 A few weeks ago we had all wondered why the unpopular "Colts teams proposal" had suddenly reappeared on to the agenda in the Scottish game and was being briefed to and discussed across the media.
You could tell it was being coordinated.
I was sent an invite and took part in a poll by the SFA and SPFL in-house fans group SDS – I'd guess it is because the SFA or SPFL or both are trying to finagle a positive fan reaction to the colts idea to try to help finesse such an unpopular move through.
If you've been away (if only) there are imminent plans to put Rangers and Celtic Colts straight into the SPFL leagues proper with a plan to somehow make it right with a vote by the member clubs in SPFL 1 and 2.
The colts idea comes augmented with money promised for 5 years to the bottom 2 SPFL divisions. In addition no relegation options are allegedly being put in place for Brechin (or whoever ends up bottom) plus (possibly) immediate entry to the leagues for champions of both the Highland and Lowland Leagues.
So bribes aplenty for all in the lower leagues driven it seems by the current 'deemed to have failed' under 20-league project, the lack of worthwhile reserve football and the sheer power of our dominant clubs.
Wary of another sixth floor stitch up we immediately undertook a survey and found Scottish fans are not in favour of the proposal.
We dug further into our 4500 responses and not surprisingly it was plain that the supporters of the two Glasgow clubs pushing for the change were more likely to be pro and fans from the other 40 clubs against.
Self interest drives the football bus in Scotland.
So What Has This to Do With Brora and Kelty?
This week the Highland League declared Brora champions this season despite having played only 3 games in a truncated year where Fort William had their best season ever only losing 1 game.
OK they only played one game!
Simultaneously and as if choreographed in sequence the Lowland League decided to announce Kelty Hearts as champions.
Both leagues were called on a Points Per Game (PPG) basis one by the management committee and one by a 9 – 3 vote.
Both clubs were also Champions last year.
Both were shafted royally too when the SPFL decided in 2020 not to honour the pyramid agreements and the SFA didn't fight the decision on behalf of its members who lost out.
As it stands Brora and Kelty are ready, waiting and more than willing to get involved in a play off, first against each other and then with the winner to play Brechin or whoever is bottom at the end of the season for a place in the SPFL 2.
There is no publicly available record of how Neil Doncaster and the SPFL legally ever managed and contrived the dropping of the pyramid last year.
At the time I remember it was much discussed but not known for sure if having a representative on both the SPFL Board and the SFA Professional Game Board was of any advantage to Brechin City. They were bottom club in 2020 and in danger of being relegated but had that crucial link at the very top.
Again Brechin are propping up our leagues right now so we currently have the same three protagonists as a year ago.

The pertinent rule that was maligned/ignored last year was-
(c) Any amendment to these Pyramid Play Off Rules must be agreed by each of the Scottish FA, SPFL, SHFL and SLFL prior to it becoming effective.
That didn't happen.
That was and is a disgrace.
This year the Highland and Lowland Leagues in Queen's Gambit style have made their move early.
Their clubs are ready to get the process moving.
It will be interesting now to see what machinations are afoot.
Machination 1- It Must Be Time to Expand the Bottom League?
Imagine a zoom call between people at the very, very top of the SPFL and the SFA.
Here is the likely 2 minute thinking process for the plan that brought the Colts teams proposals bubbling back to life two weeks ago.
The Chair says
"Good meeting. Just a wee final point guys. 
Peter and Stewart want the Colts deal done for next year.
Let's make it look seamless and planned".
(The group have all discussed this informally and more or less know what they have to do.)

The obvious solution is to increase SPFL 2  from 10 to 12, 14 or even 16 and make it look like new thinking?
That makes sense and saves Brechin.
It also allows room for both Brora and Kelty, plus two colts sides into a new 14-team league?
We could even make it 16 if more colts sides come forward. That would make it look more planned". 

"That works for me I like 'everybody wins' scenarios like this?
Let's get the fans behind it and sell it hard.
Let's bring in SDS to make it look like a fans idea all along".

Far from showing the genius and cunning of those running our sport it fails on many counts.
It doesn't seem very fair to clubs or fans bursting to get into the 4th level from the 5th or their fans.
It doesn't help ex-fourth level members like East Stirling or Berwick trying to get back.
It doesn't bring real reform across our leagues. (And that is needed but we have 4 leagues and an integrated system to look at)
It is a knee jerk reaction to pressure from the top rather than an answer to our much needed elite youth strategy and plan.
It does nothing to unify and strengthen the grass roots up and through the pyramid.
And what if Aberdeen or East Fife Colts want to emulate Celtic and Rangers and gain entry next year?
Where do they start?
Two Interesting Things From Our Zoom With Anas Sarwar
Thanks to all who joined us and took part.
During a lively discussion with the new Scottish Labour leader this week many topics were raised and covered but two are worth sharing for now.
"What can football learn from Faith Groups"?
"How Gamtalk can work in our clubs".


Faith Groups won the right to worship during a pandemic in future with protocols in place.
They had to go to court.
They did and won.
Football could have and should have done the same.
Months ago like we asked them to.
It didn't.
Our administrators and their secretive JRG group have let all the fans down.
1.  What is the difference between protocoled church attendance and protocoled Football fans in the open air enjoying sport?
A. Nothing much.
In fact football is outside and less risky than churches and supermarkets.
Paul Pettigrew got wooed, and spat out, six figures in pound notes poorer, by a hi-tec algorithm-driven gambling industry.
He was feted one week when spending and barred the next when burst.
He has now started an education process to stop youngsters like him being recruited, processed and destroyed by the gambling industry.
Football has an uneasy relationship with betting. We are happy to take its marketing budgets but doing little to prevent it recruiting football fans and people and it is widespread though our game.
Q How many Clubs are working with Gamtalk to help with an endemic gambling pandemic that is both in and through clubs right now?
A. Only 3.
Q. How many should be working with Paul Pettigrew of Gamtalk?
A. All of them.
We live in a strange world.
This week Denise Coates CEO of Bet 365 was reported as earning £469M as her wages and dividend for 2020 – 2021.
Paul Pettigrew is one of many victims of an industry that has made Denise Coates and others rich. He is not unique. There are victims throughout our game. A game that has an over reliance on income streams and practices that allow our youngsters to be cynically targeted and damaged.
Paul is fine. He got his act together, set up Gamtalk and even asked the SFA for financial help to spread the word through member clubs. He was politely refused (aka GTF).
The irony is Paul and others like him are needed by our game even if those at the top can't see it.
The same game where if Denise Coates of Bet 365 picked up the phone to speak Neil or Maxie or their commercial people she would be an instant VIP listened to and acted on.
As always feel free to drop me a line about anything football related.
The SFSA do not claim to own any of the included images and will be removed on request of the owner.
---
Posted in: Andy's Sting in the Tale, Latest News