Andy's Sting In The Tale (06/10/23) "Leadership Posted Missing"
Date: 6th October 2023
(Photo:@Homesoffootball)



You would think from the wall to wall coverage that the biggest news this week was Rangers needing a new manager to replace the one they had head-hunted to return to their fold less than a year ago.
It isn't.
12 Rangers managers including caretakers in just 12 years since Ally took over in 2011.
That is quite a story indeed but it has over-dominated our football agenda and is at the end of the day a one club story.
I say that because I'm going to talk about two bigger fish that need some frying.

They both provide insights into our game and how it has come to be run, but as George Barron used to say on Beechgrove every week, "Ah hae ma doots" that anything will be done.
Well it's another Scottish Football Groundhog Day and Andy is saying now, "Ah hae ma doots that our game has the ability to cast aside its constant cancer of self-interest and demonstrate coordinated leadership on two fronts. And I hope I'm wrong".
We'll never be the biggest country in world football but we have to start doing the right thing and right now we are bereft of direction and decency.
Top down.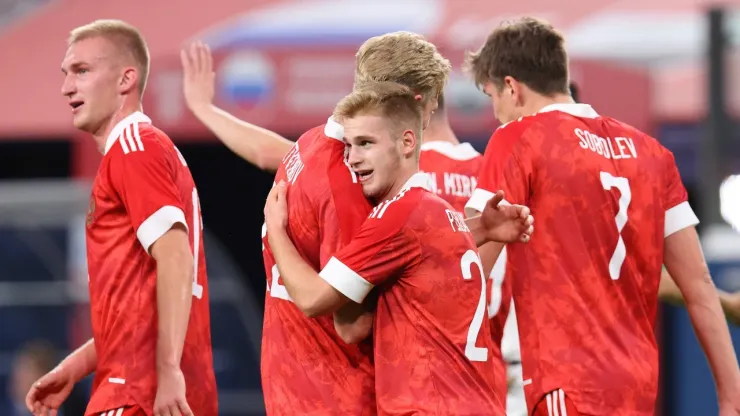 The First Fish we need to fry is the SFA's abject failure to share in any way or discuss its view and plan to deal with the fast approaching outcomes from Uefa and Fifa's moves to allow Russian under 17 teams to play in their tournaments, starting yesterday.
The second is our ongoing commercial shortcomings in both the SFA and SPFL.
The shortcomings that have now seen SPFL main sponsors 'cinch' exercising a 'never before mentioned' option to pull out 2 years early from what was always heralded to us mug punters as a 5 year deal.
That's bad news indeed.
Poor commercial income streams hold our game back especially when they disappear into the biggest clubs wages demands like happens just now.
Poor commercial performance also means there is an imminent fight between fans and the SFA.
This is because basically the SFA's ongoing financial under-delivery has led them to an overwhelming and unhealthy reliance on the 'pay per view' income they currently squeeze from our national team games.
Currently the contract is packaged through Uefa and has been placed by them with a failing Scandi channel but it is fair to say that behind the scenes we are being actively sold to the highest bidder, if one can be found.
That is deeply worrying.

First Fish to Fry: SFA, Ukraine and Russian Under 17s
I talked about it as it broke last Friday. Since then it's quite bizarre that the lack of reportage, debate and input is just like there has been a coordinated 'news blackout' in Scotland on this subject.
And even after Fifa announced their support.
In particular the particular silence from our 6th floor is indeed particularly deafening.
What do we think?
And what is our response?
Two unasked and unanswered questions.
Why?
A Ukrainian Football Association letter was sent this week to Uefa and other countries hiding behind the Uefa 'press released rationale' for the decision, that "Any Uefa or Fifa ban is damaging to Russian children".
Here's a snippet from the Ukraine communication response.
"It is Ukrainian children who are affected by this war not Russian children whose sole disadvantage is to be denied international competition within Europe. At least 19,000 of our children have been kidnapped from Ukraine and taken into Russia".
Ukraine is quite rightly asking Uefa members for some solidarity and support.
Some Countries Have Principles
England, Poland, Latvia, Lithuania, Sweden, Denmark, Finland, Ireland, Norway, and Romania have quickly come out saying they will not raise sides to play Russia, i.e are revolting. (This gives Uefa a major potential headache downstream)
And so far, Switzerland, Czech Republic, Netherlands, and Estonia are the other countries that I know of who are in detailed conversations about joining the 10.
Some Countries are Doing Nothing.

Scotland is Doing Nothing.

And the existing under 17s male group we are in looks very inviting as the place Russia will be 'shoehorned' into by Uefa, alongside Turkey, Belarus, and Kazakhstan.
Maybe, the 3 countries in Uefa most friendly to Russia.
So whatever happens is coming our way and we're like rabbits in the headlights.
I hope I'm wrong but it seems like it is all part of a pre meditated and coordinated plan by Uefa and Fifa and wonder how much we knew.
I remember that recent photograph from our 151st fundraiser against England where our SFA President sat beside Gianni Infantino.
I wonder if the Uefa/Fifa under 17s plan was part of the discussion that night.
Either way as Sergeant Fraser oft said, and still says in the regular repeats, "We're Doomed"!
But Andy's  Sting says, "Do the Right Thing SFA and do it yesterday".
And tell us what you are doing and why.
Don't forget, The SFA has previous when it comes to big, game-changing decisions coming our way from Uefa and Fifa.
For starters we don't even know who on the SFA represents us there.
We don't know what they say, or have said, or even if they attend meetings.
We do know however that The SFA/Scotland did half of bugger all when the big Champions League land grab happened a few years ago.
Instead of 'organising with all the other wee guys' or even being part of a justified revolt that would have consigned all the subsequent "coefficient bollock"s and '4 teams from the big countries in the Champions League' to the landfill it deserved, we sat on our hands nodding like a back parcel-shelf dog.
We showed no leadership then and haven't changed.
Why?
The cynical side of Andy thinks we had probably been bought off then and maybe now too, because that is how it all works.
Maybe nodding like a parcel-shelf dog is easier that caring about stuff and is seen as a revenue stream enhancer!
Why the Radio Silence Guys?
Why Do You Not Show Some Leadership and in my opinion, decency?
The boycott list is currently 10 countries going on 14 and we're not even at the party, or if we are it's a big secret and that's just as wrong.
WTF!
Second Fish to Fry: Football Revenue Underperformance North of the Wall
i) Not Such a cinch
When I heard that the second hand car network, cinch, had decided to exercise their exit clause after 3 years I wasn't surprised.
Their relationship with the SPFL got torpedoed fairly early on by the own goal that was an internal fight with Rangers and meant that at best it limped along commercially.
I said vociferously at the time that the paltry amount of money was an undersell in itself and a huge media bargain for cinch, but Beggars, Choosers and all that.
We're used to 'Brochan Lom'.
Expectations up here are low commercially because commercial deliveries have always been low.
Our game is not good at selling itself and never has been.
Maybe because it has no desire to address some 'elephants in our room'.
ii) SFSA Say "No to the £180 Cash Grab"
And we need your help and 3 minutes of your time.
That is what an annual  subscription to Viaplay, the Scandi, 'Pay per View' Station who bought the company who used to be Setanta, charges for a year's sport including a few Scottish matches.
The SFA are not for any changes being imposed on their deal. They fervently hope Viaplay don't go bust and meanwhile are hiding behind their fingers, toddler style, shouting "It's Uefa That Done It to You, Not Us".
The savage fact is they over-rely on the revenue it brings.
Nobody on the 6th floor wants to look at the bigger picture of what's the right thing to do.
They are happy to be in a commercial rut taking their tawdry '20 pieces of silver' from their self-restricted audience.
Managing a decline of their own making.
Well, Let Me Tell You – The Fans Are Revolting
SFSA have joined with various Tartan Army Groups, Supporters Direct, Academics and political cross parties(all of them)  in a movement coordinated through Gavin Newlands MP to demand not just a change of attitude but some new thinking.
The Scottish National Teams belong to the nation not the SFA.
They are just custodians managing them on our behalves.

Here's How You Can Help
The starting point is some simple dip-stick research that we want you to take the 3 minutes I mentioned above to complete.
It's easy and your support will fuel a very fast evolution from the current £180 per annum to 'Free on Council Telly' for us all.
Even if you have a dodgy Amazon Fire stick and get it all free we need your insights and opinions on what is the right thing to do for all the fans.
See Sting item 1 just below.
This Week's Sting
1. Three Minutes to Fuel the Fight
Help the SFSA Build the Case for Council Telly
Here is the link to the survey and the introduction letter to set the scene.
We need your help.
https://s-f-s-a.onlinesurveys.ac.uk/fans-national-team-survey-2023-copy-3
Dear fellow supporter,
With the news breaking over the summer that the current Scandinavian broadcasters of the Scotland National Team's games, 'Viaplay', would be pulling out of the UK market, we – as Scotland's only independent national fans organisation are calling for all Scotland games to be shown on Free to Air Television.
This is so all fans, especially the next generation of this country's stars can watch their heroes play every time they step onto the pitch, irrespective of their family incomes.
The current price, negotiated by UEFA and sanctioned by our SFA, to watch Scotland National Team games on TV on ViaPlay is £14.99 per month, or almost £180 per annum.
And while we are expected to pay that, all England National Team matches are free to watch on Channel 4 for now and soon to be ITV.
These will be shown in England, Scotland and across the UK nations.
We ask the SFA on behalf of all the fans and the nation why they think it is acceptable in any way that Scotland fans are losing out, with their blessing.
Scotland is OUR team and it belongs to the nation.
We believe that like the Olympics, Wimbledon and English matches that being able to watch them play should not face extra financial hurdles or barriers.
We want to shout that aloud.
To do that we need your opinion, contribution, and support by completing a short survey that will form the basis of the campaign.
It is made up of a range of single answer multiple-choice questions and should take no more than 3 minutes to complete.
All data collected will be anonymised so participants cannot be identified.
This will be hugely valuable in this fight.
Please support us to bring change.
And PLEASE share it amongst your friends and community.
The more participants we get, the better evidence we have to support our campaign.
The SFSA are a Union of Fans who research and represent the views of the key stakeholders (the fans) in Scottish Football.
The more members we have the louder we can shout on behalf of us all.
If you are not already a member, please join the SFSA and help us start the process to #ReclaimOurTeam.
Fill out at the section at the end of the survey.
There is no charge.
Being a member of the SFSA is free, and always will be.
Scottish football needs to listen more to its fans and change the focus from self-interest to common good.
https://s-f-s-a.onlinesurveys.ac.uk/fans-national-team-survey-2023-copy-3
That's it for this week
Feedback input and wee stories welcome as always.
Andy's Album of the Week
This week is 'Themes' by Vangellis.
It is a compilation of some amazing and haunting stuff.
Yes there is his 'rip off'.
A beautifully enhanced version of 'These are my Mountains' which was actually written by actor James Cosmo's dad for the 1967 STV showcase "A Song for Scotland".
It came second, and was adopted by the Alexander Brothers as their standard before it also resurfaced as the wonderful 'Chariots of Fire' theme.
But the stand out track that gives me memories I don't even have is 'La Petite Fille De La Mer'.
Written and recorded for the L'Apocalypse des Animeaux French documentary series in 1970.
Worth a listen and truly timeless.
Vangelis – La petite fille de la mer – YouTube
---
Posted in: Andy's Sting in the Tale, Latest News