Andy's Sting In The Tale (08/07/22) "Scottish Football is Everybody's Business"
Date: 8th July 2022
(Photo:@Homesoffootball)
Another 'Andy Intro' before Sting in the Tale.
A lot of discussion and debate followed last week's Sting.
Scottish fans would be almost 100% behind the return of schools football for boys and girls and don't know why it hasn't just happened.
Not as it was pre 1982 however when sometimes winning took on too much of a life of its own especially at the younger ages.
Fans now want an inclusive proper, thought-through Schools Football programme that will help football and mental and physical health too.
It is the kind of thing that football, working in an integrated world with the Scottish Government and other key stakeholders might just accomplish.
But as we know Scottish football doesn't do 'integrated' and 'thought through' very well or very often.
Scottish Football, like football in other nations, just wants more and more money from anywhere including from the Government with no strings.
All in a naïve belief that buying better and more players will solve all the clubs and the game's strategic problems along the way.
If only that kind of magic could exist.
Many of you also liked the idea of an independent control over Scottish football and that may or not be through a system with a powerful Ombudsman and or links to Audit Scotland.
I'd be in favour of both.
And a top down and bottom up review before it happens.
More on that in weeks to come.
Meanwhile there is an underside in Scottish football, the kind of underbelly that appears when money and power is available and there is no outside control.
Here is a straight lift from an email from one fan and regular contributor earlier this week.
I  don't have the detail and cannot confirm the veracity of the paragraph nor the clubs who might or might not be the perpetrators but it sounds and feels right and is worth sharing.
"Andy, our game needs outside help and genuine scrutiny. Too often clubs become the chattels of chancers, power hungry self-publicists and criminals who see the easy publicity, the lack of supervision, the real value of the undervalued assets and constant and very reliable cash streams to play with.
Right now people in the know could tell you the SPFL has members where some of the following is rife.
Money laundering, other dirty monies, property grabs, tax evasion and links to organised crime.
These are all open secrets and the press and authorities know all about it but nothing is ever said or done.
And if you go back just 10 years.
The collapse of Rangers from the particular David Murray business model, based on OPM*, and NPT*, via Craig Whyte's '£1 Bargain' might have been prevented if proper external controls had been in place.
That would have just been good for the Rangers fans who were put through hell.
More importantly it would have saved all Scottish taxpayers the lost taxes and the £100 Million plus costs of the absolute amateurism and maybe more by the Scottish 'Crown Office and Procurator Fiscal Service' and 'Police Scotland' since".
Other football things will interest us as they happen but a big part of our ongoing discussion over the next few months is set by the moribund status quo.
Scottish football needs cleaned up and it won't and can't do it itself.
(*Other people's money , *not paying taxes)
In the meantime, here is Sting with insights into stuff that the mainstream press don't give enough coverage to.
Viva La Revolution
'Whose Andy'?
Boris and a Learning for Scottish Football
Innocent-ish and Revengeful
Qatar
Pepsico Snubs Scotland
Killing us Softly in Premier Class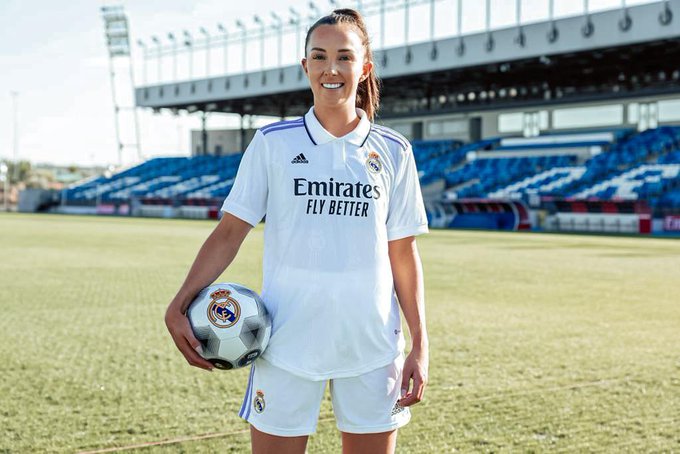 1. Caroline's Dream Comes True
From Hibs to Las Blancas, via Arsenal, Bristol City, Liverpool and finally 4 successful years at Man City.
Not a bad CV for a Dunfermline born 27 year old Scot, now heading as a free agent to Real Madrid Club de Football Femenino.
This old footage of the 9 year old Caroline playing keepy uppy in her number 5 Real Madrid shirt will make you smile out loud.
And this week, news has come that Ron Gordon of Hibs has brought Hibernian Women into his club structure.
Previous the Hibee girls were part of the Hibernian Community Foundation and played their games at distant Livingston.
The plan is a return to Embra but the ground has yet to be confirmed. (A crowd of 5500 watched Hibs vs Hearts last season at Easter Road. It was called the Edinburgh Derby, but I guess whoever called it that didn't know Spartans Women also played in Edinburgh).
Hibs boss, Ben Kinsell said, "We will fully support and invest in women's football with the ambition of achieving European football and becoming professional.
I'd say women's football is on the up and good for the game.
2. Oor Andy, Your Andy, Abody's Andy?
This week we all mourned the sad news and untimely demise of 'the Goalie'.
The Scottish media reaction gives an insight into Scottish football's unhealthy relationship with our media and the inherent bias that fans outside certain clubs have to live with.
Here are some Andy Goram facts.
In a career lasting 23 years Andy played 616 club games, 45 International games, and even 4 cricket internationals.
In a total of 661 football matches, 199 were for Oldham, 184 for Rangers and 138 for Hibs.
So Oldham come in as the club he played most for at 30% of his games.
Rangers at 28%.
Hibs at 21%.
And Scotland 7%.
Yes, Andy won more trophies at Rangers than elsewhere but our media rightly piled into this tragic story and mostly only ever mentioned his connection with Rangers and on the odd occasion, Scotland.
A demonstration that our media follows one club very closely, one club because of 'balance', and the rest not so much.
Farewell Richard Gordon, Welcome Kenny
For a long, long time we have had the balanced wisdom and knowledge of Richard on Sportsound and other programmes.
A well-known Aberdeen fan he has always been the epitome of fairness and insight, done with nice reserved humour.
He was a balance against the imbalance that distorts how our game is reported.
We all wish him well at Cove in his new role.
Richard's replacement was announced this week, Kenny Macintyre a well-known Rangers supporter.
I hope that he maintains the approach that made Richard and the Sportsound programme so special.
And maybe BBC Scotland will invest more in the SPFL and pyramid clubs outside the traditional dupopolistic bubble that over-dominates.
That would be better for the game and the majority of fans.
Good luck and best wishes Kenny, not an easy gig.
3. Boris and Football Management Learnings
Imaging sacking a football manager for several competent reasons of which being economical with the truth, when asked, being one.
Imagine then leaving him in post, in charge, with all the powers and opportunities that brings. And at the same time having a beauty parade in the shires followed by a raffle by post to find a new leader.
While the nearly ex-guy is going rampant with the cheque book and all the assets.
Wouldn't happen?
Would be stupid?
We'll all be watching closely and so will the media.
One of the things we all take for granted is the footage from parliament and committee meetings that tell us what our elected MPs are up to and gives us knowledge.
Have you ever wondered why we have no such access to the SFA or SPFL Board meetings and workings?
We the fans are core stakeholders but the last thing that the clubs micro-controlling both organisations for their own club's personal interest and benefit seem to want is transparency.
Voters wouldn't put up with a situation like that.
Why do we as fans?
4. Bellinzona Says 'Fifa Called it Wrong'
Hmm
Sepp Blatter and Michel Platini used to be the most powerful officials in World football.
Sepp, nice man that he is, seemingly wanted to reward his French protegee for 'consultancy' said to be given during his first term of office, between 1998 and 2002, and ten years later made what he called a $2M 'disloyalty' payment.
Not bad for some easy, unspecified work by Sepp's pal Michel.
There was however no contract or record for this 'retrospective payment' made shortly after Sepp was re-elected at Fifa unopposed.
Warning bells ringing and all that!
Anyway after an 11 day criminal trial in Bellinzona, Switzerland they were both somehow found not guilty of defrauding Fifa of its biscuit tin cash.
The money was / is seemingly legit and it is seemingly seen as OK for a Fifa President to pay a pal for unregistered work.
The prosecutors had wanted 20 month suspended sentences.
Platini now wants revenge saying,
"Going from being a legend of world soccer to a devil is very difficult especially when it comes in a very unfair way. In this case there are culprits who were not on trial. We will meet them again.  I will not give up and go all the way in my quest for truth".
Fifa President Gianni Infantino, newly resident in Qatar used to be Platini's No 2.
He knew stuff.
He did stuff.
He wanted the top job.
Desperately.
And as Dickens knew desperate men do desperate things.
Gianni himself is now in the frame and Michel wants to do a 'Chopper Harris' on him.
Just last year Platini filed a case against him in France that is bubbling away.
Mr Infantino is also under criminal investigation by Swiss prosecutors on other issues.
Maybe that is why he is now a resident of Qatar?
There is so much money sluicing around Fifa and no real external checking that none of this is even surprising.
5. More Qatar Rumblings
This week it was Bayern's CEO Oliver Kahn defending their Qatari sponsors using his team to 'Sportswash' in Germany.
"I'm sure our partnership brings positive change to the Gulf state because we have had several talks discussing tolerance and diversity".
So there you have it and no mention of the colossal exchange of money between the parties.
What if he had said.
"Football is about money and the Qatari State are giving us silly amounts of Millions because they want to be seen by the world as nicer people. It allows us to buy players like Sadio Mane".
Bayern's President, Hebert Hainer then added his tuppence worth and said, 'Human rights improvements like democracy in Germany cannot happen overnight'.
He also didn't say how much money his club trouser from their partnership with the state of Qatar nor talk about Qatar also supporting other clubs too, to Sportswash in their countries.

Reuters: Bearers of Bad World Cup News
"Current plans are that at stadia fans can have beer upon arrival or departure outside but beer won't be served during the match or in the stadium bowl".
Fifa and its main sponsor, Budweiser had lobbied hard but the Qatari's were resolute.
Just like they are about not paying compensation to dead, injured or unpaid workers.
6. Scotland – Where is Scotland?
If you work for Pepsico we'd like to know why your company are sponsoring 45 places for aspiring women's coaches though 'Women in Football' in England at the FAs 'Introduction to coaching course' but not working with the other 3 nations.
Kelly Simmons OBE, Director of Women's Professional Game at the FA and a Women in Football Board member said "It is critical we help to identify and support more female coaches who can inspire girls and women to play, enjoy and excel in football.
Just not in Scotland.
A few weeks ago we talked about how Scotland also lost out in the televised football auction when Channel 4 ignored its Scottish audiences while shelling out to keep its English punters happy with matches there on council telly instead of pay per view.
Why do we not see and hear those well-paid to run our game fighting our corner?
Why the meekness and silence?
Why are we not politicising the bias against us?
7. Dodgy Deals with the Tories
Last week, Murdoch's Times announced that the Betting Companies deep pockets and ruthless lobbying was prevailing.
It looked like in all likelihood the ban on betting cos advertising themselves on football shirts, which had been almost certain, was now unlikely.
That even led to 'family clubs' like Bournemouth feeling confident enough to announce a very lucrative deal with Celtic shirt sponsors, Daftiebet.
There was a huge reaction from many who could see that the Tory party had reneged on a promise, one of many I hear you think.
There is always a deal to be done at Westminster even a short term one.
And the truth is someone had probably got at the regulator or the committee for change with an ugly yet lucrative potential compromise.
This week before the all-consuming Boris Dog and Pony Show, the Premier League asked their members to 'Voluntarily' phase out all betting companies on shirts in the next 3 years, by season 2024-2025.
A tawdry wee deal worth hundreds of £millions to the premier league clubs.
Quite outrageous too.
Why are clubs advertising products that damage many fans and lead to suicides in a predictable number?
Why do clubs expect their players to wear bookie logos knowing that they damage their supporters?
Why do players wear the strips?
Why is the Conservative government backing down on a plan that was the right thing to do?
Finally, as always, hope you enjoyed a look at some of the stuff that you don't find in the red tops.
Feedback and opinions are always welcome.
Andrew@scottishfsa.org
The SFSA do not claim to own any of the included images which will be removed on request of the owner.
---
Posted in: Andy's Sting in the Tale, Latest News