Andy's Sting In The Tale (11/06/21) "The Lull Before the Storm"
Date: 11th June 2021
The hype was inevitable, but the Euros are here.
We have been told that there is a 57% chance we can qualify for the knock-out stages.
Right now that's fine.
I hope our schools all show the game on Monday too.
Just 3 days to Go
1. Knee Jerk Reactions
2. Fan Zone Faux-Fury?
3.Henry in Listening Mode
4. Ex Partick Thistle Youngster's Daughter's Documentary Does the Business

5. Brechin Welcome Turra on July 24
6. Neil is 'Delighted'
7. Glasgow City's Link to Cruyff's Shirt
8. A Message to Steve
Stand at Home, Take the Knee Away – Fair Enough
Some months ago, the Scottish team had a grown-up discussion about what, if anything, they would do before their games to state their opposition to Racism. They decided that they would "Stand Against Racism' and this would be manifest by the team quite literally 'standing' to make the point.
Fair enough and well-done guys for having this kind of open debate as a group.
And well done for taking a stand in your own way.
From my research it seems that only 8 teams out of 24 plan to actually 'take the knee' during the Euros tournament.
I don't know if the others like Scotland will make the point in another way or if they plan to do nothing.
Time will tell.
I smiled when I heard just now that at Wembley next Friday, Scotland will change their stated plans and instead join their hosts and make their anti-racism point kneeling in a show of togetherness.
Well done, Steve, Andy and everyone.
That decision is good insight.
It wasn't necessary but shows real emotional understanding and togetherness to make the point with our nearest neighbours.
Along the way since this 'stushie in a mug' erupted it has illuminated three things.
Some people go out of their way to be affronted and offended.
Some politicians live in soundbite world and ignore realities along the way. (Have a read of today's 'Glasgow Evening Times', other papers no doubt carry similar 'faux outrage').
And most important while this hot air and fury is all kicking off nothing is actually being done by those in charge.
And nobody is asking the right questions to hold them to account.
By that I mean – where is the leadership on all this from the SFA, Uefa, Fifa?
Leadership that deals with what happens if/when a player is racially or religiously abused during a match by the other team or by the crowd.
We need this in Scotland urgently because stuff that used to be 'accepted' and classed as 'banter' north of Hadrian's Wall is racism by any other word.
A team walk-off is an inevitability and football needs to have a plan in place.
2. The Relativism Question (aka Fan Zone Fury)
I wonder what our politicians talk about and do when they are not venting their collective spleens about the Fan Zone at Glasgow Green.
Anyway the newly arrived 'Relativism Question' definition, nonsense is basically people like you and me asking "Why can we visit the Fan Zone yet not our kids school sports?
It's not classic 'whataboutery' just people asking obvious questions that make the logic behind decisions frequently look plain daft.
Professor Jason Leitch came on to the radio and tried to explain what it was all about introducing this, new to me, 'Relativism' concept.
He confirmed that contradictions will inevitably happen unless we go from lockdown to total non-lockdown in one movement.
That won't happen so Relativism is today's word of the day.
Jason used it to try to explain the decision to allow the Glasgow Green FanZone with alcohol served to spaced-out tables to happen.
If you've been in the wilds that means 3,000 punters per session, two sessions per day got the go ahead.
(Maybe the school sports should all relocate to Glasgow Green?)
Anyway moving on we were told by Jason the green light is because The Fan Zone is part of the greater 'Glasgow Euros Package'.
Scotland had to pay for the privilege of hosting the Euros at Hampden and to facilitate it post-Covid it meant 'rules' had to be 'caressed' to allow the 4 break-even 12,000 crowds it all needs.
'Caressed' they were and this was done by classifying it as something called a 'Gateway' event, another new concept sneaked upon us all.
That new concept simply means it gets special privileges and immunities.
The kid of privileges not given to school sports, weddings, funerals, soft play centres etc because they have no political clout.
Naïve Andy would say conferring all things Glasgow Euros with special 'Gateway' status is because our government and Glasgow council want Scotland to be part of a successful and profitable football tournament and to be considered for such in the future.
There is some truth in that view too.
Cyncial Andy says "Aye right. This is all about money and avoiding financial carnage coming the way of all the exposed Scottish stakeholders who had originally seen the 2020 Euros as a guaranteed goldmine".
I say that because someone at the SFA had dollar signs in their eyes when fighting to be on the roster and then signing a financial contract to become a host.
Along the way they will have roped in others and agreed to share the spoils with people like the City of Glasgow and others.
In the euphoria at the time none of them ever gave a thought to what would happen if there might be a pandemic coming our way and that was fair enough because it had never happened before.
Stuff happened though as we all know.
First we had a postponement for a year.
Sandy Ceferin, Uefa head even told us all it would be gone by summer 2021 and stadia would all be full to capacity.
That never happened and when his team looked down the barrel and saw financial Armageddon they put the pressure on the 12 hosts.
That included Glasgow, Dublin, Munich and Bilbao.
Those in charge in Dublin and Bilbao could not guarantee Sandy's break-even demands and they were dumped.
Glasgow somehow cobbled together an acceptable package and Munich must have too.
I've been told our government were and are the ultimate guarantor to save the day but don't know for certain.
I do know that all this pressure has ended up getting the Scottish Government to agree stuff that would never otherwise have been allowed.
Anyway the games will go ahead.
The Fan Zone will go ahead.
I have faith that the Tartan Army will follow all the protocols and we will have a successful hosting experience.
I just hope our foot-soldiers without tickets stay away and watch next Friday's Wembley game from home.
3. Change Movements Start by Listening?
Thanks to those of you who have already visited http://scottishfootball.org/home/
It is the start of the works that will become McLeish Report 3.
We've spent the last week reading and responding but most of all listening.
In a week when Scotland are about to play again on the big stage and we're all focussed on Steve and his boys there is no better time to look hard at our game and what needs to be done to prevent the next gap being 23 years.
Unlike the 6th floor at Hampden, we need and value your help and input.
4.  Ex Partick Thistle Youngster's Daughter's Documentary Does the Business

Channel 4 aired 'Football's Gambling Addiction" earlier this week.


If you haven't seen it then it is worth the watching.
Douglas Davidson should be proud of his documentary daughter.
The ex-Thistle reserve gave her a love of the game and that came across as she addressed an open sore.
Our ex-Scottish Conservative Leader stared into the stranglehold that gambling has right now.
She noted the fact that Football has become over-reliant on the 'easy money' that gambling firms are providing and explored the fear that a sudden cessation could affect club's business plans and contracts already in place.
Fair enough.
That happened in Formula 1 and Cricket when tobacco was barred but any effects were short term and the games have moved on and prospered.
Lady Ruth called out the 2005 gambling act as being "ineffective and outflanked" by a clever industry.
She also called for MP's to back what she called a 'radical rethink' and highlighted the aggressive algorithm-driven 'cross-selling' of toxically addictive gambling products to football fans when their guards are down.
These gambling firms are changing consumers interactions with our sport.
There are also known suicides attributable to this relationship and many other mental health issues.
It is a toxic 'partnership'.
This is not the soft flutter of a football pool coupon in the old days, a fiver on the National or a lottery ticket.
It is a hard and addictive relationship where only one side ever wins.
Mark Palios, ex-pro, ex-heavyweight turnaround accountant at PW&C and ex-head of the Football Association spoke well.
There was also a disappointing interview with John Whittingdale the new undersecretary leading the current review of the UK gambling laws, industry standards and conduct.
He is a conflicted individual especially when you know that our Westminster Treasury receipts from betting and gaming tax alone are circa £3Billion.
                                                                                                                                                                                                                 "Ruth Done Good though and more power to her on stuff like this".
5. Brechin Home in on a Fast Return
Brechin and new manager Andy Kirk are said to be looking for an immediate bounce-back and using their SPFL parachute payment to maximise their chances.
It is a gamble, for sure.
Anyway the Highland League's newest and most reluctant member club found out this week that 4 out of their first 5 fixtures will be on their hallowed Glebe Park turf, kicking off on 24th July against Turra.
That could and should help them get off to a flyer.
The big,5 hours, each-way trip, to Wick is scheduled for Saturday 16 October but do-able , just. in a day for the fans.
Brechin's road back into our top 4 leagues is not easy but we wish them well and hope they work with us all to change the current set up.
It makes no sense for a pyramid of leagues to continually put such financial pressures on their members.
At the end of this season Oor Donald's Ayr United didn't know if they were playing in the play offs to go up or down.
That is daft.
There needs to be more stability across our game and less daftness.
6. Would You Buy a Used Car from This Man
I heard this morning that the SPFL are delighted.
That word alone painted a picture in my mind of a smiling Neil Doncaster.
The reason why is that he delightedly announced the "largest ever sponsorship" in the league's history.
It is a title sponsorship of our currently unsponsored 4 top leagues which will now be called 'The "Cinch" Leagues' i.e. The Cinch Championship etc.
Neil's press release also said, "This is an enormously significant partnership for our member clubs and for Scottish football as a whole. The duration of the sponsorship agreement demonstrates their long-term commitment to Scottish football".
So there you have it.
A fairly new private limited company, now called Cinch since they changed their name from MYAUTO LIMITED, based out of Farnham, Surrey are our new sponsors.
My first thought is this is good news and I'm glad we've avoided another gambling organisation.
My second thought was just how low key yet patronising this announcement is.
When I read the press release and think about stuff written in it like "demonstrates their long term commitment to Scottish football',  I despair at whoever writes this PR crap.
Anyway I looked Cinch the company up today on the interweb.
At the time of my writing this, they had 3,092 cars available for sale.
Their site proclaims their product as 'The easy way to buy a car online'.
They also offer "Faff Free Cars" with free home delivery, can provide finance and all cars are less than 70,000 mile or 7 years.
Cinch get mostly good feedback on Trustpilot (4.8 out of 5 for 2430 reviews).
The press release didn't tell ever us just how much in  pound notes they are 'expressing their deep commitment to our game' by paying us it but did end with a wee bit of hyperbole from Neil which is worth reproducing in bold.
"This is a ringing endorsement of the enduring popularity of Scottish football not only north of the border but right around the world".
That made me wonder if Cinch deliver cars less than 7 years old to Scottish Football fans based abroad for free too?
They don't.
The SPFL need a new PR company.
7. Championes
Glasgow City held their nerve last week in a 2-0 win against Rangers.
That guaranteed them the league title for the 14th time in a row.
The same number as the famous shirt.
This year there was a three-way tussle at the top as competition hotted-up with the other two big Glasgow clubs finally starting to take women's football seriously.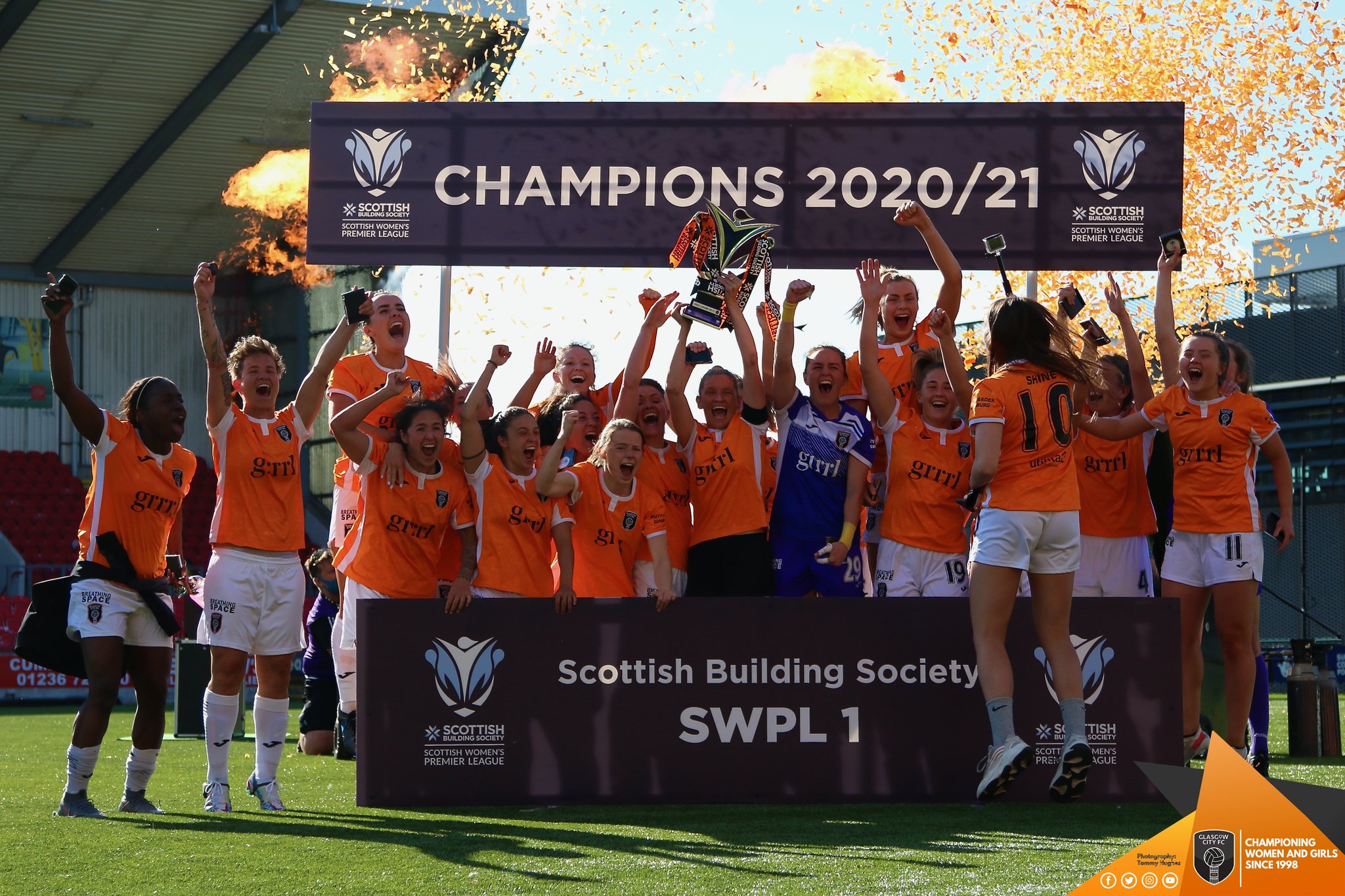 Covid-hit Celtic playing a batch of youngsters, won 8-0 at Motherwell and are runners up.
Both Glasgow City and Celtic now qualify for the revamped Uefa Women's Champions League qualifiers.
Like everything Uefa do it is ridiculously complex as they try to protect their big countries who dominate politically.
Finagle would be a more appropriate word to use than protect because it is all a bit sneaky.
In short, the top 3 ranked countries get an automatic place into the money-spinning group stages for 16 clubs along with the current title holders Barcelona.
Everyone else has a series of seeded hurdles to overcome to make one of the 12 available spaces left.
To reach there there are in effect 2 mini tournaments in round 1, one for champions from Uefa associations ranked 7 – 50 and another for runners-ups for the top 14 and third placers for the top 6 associations.
Then there is 'Round 2 for the 24 'qualifiers' from round 1 in unequal sections of 14 'Champions' and 10 'League' i.e. runner's-up.
It's all designed to get the teams from the big countries into the 16-team final knock out stage.
It's stupidly complex and contrived.
Football should stop pandering to the big countries and bring in some bottom-up democracy.
If you are a Champion, you should play in the Champions' League proper.
One club per country apart from the previous winner.
8. Steve Clarke.

"Michael Owen was 18 when he got that goal against Argentina.
Play Billy".
As always feel free to contact me about anything in Scottish Football.
Andrew@scottishfsa.org
The SFSA do not claim to own any of the included images and will be removed on request of the owner.
---
Posted in: Andy's Sting in the Tale, Latest News