Andy's Sting In The Tale (16/07/21) "Football's Coming Home to Scotland"
Date: 16th July 2021
2000 Fans From Monday, Yee-Haa!
All but 18 of our clubs can welcome back their usual crowds as normality edges back.
No 19 in the 'size of crowds league table', Raith Rovers, with an average of over 1800 and all clubs with lower average crowds will be able to welcome everyone.
Number 18, Inverness CT, with an average of 2117 will have to ask for permission and jump though unspecified hoops if the extra 117 spectators are to be allowed.
And all the other 17 clubs with even larger average crowds will have to meet certain criteria and protocols if they want more fans to get in.
Each club will be judged individually.
Against criteria that should be but aren't published.
OK – it's not the 60,000 that made Wembley such a Covid Super-Spreader event last week but it is a start.
'Sting in the Tale' said all along during lockdown that smaller clubs should have been able to have fans back all along, safe in the open air, and history will show that the secretive JRG were over-dominated by and way too focused on the big clubs.
That was the wrong thing to do.
None of this stuff is in the public domain yet but it should be.
There is too much secrecy in football.
Fans Have the Ability to Think Big
Thanks for the responses to our open letter last week to the Professional Game Board's, Innovation sub-group's proposals.
There is a real consistency and commonality too but that's for another week.
In the Meantime – This Week's Sting
1. Wembley Outfall
2. European Mess
3. Indicative Vote 'Negative'!
4. Fans want Consistency
5. The Imprecision of the English Language

1. Wembley Outfall
It all kicked off before the national anthems.
There were hundreds of ticketless English fans who you would think were working to a coordinated plan.
You've seen it all on telly as they tried to storm the gates.
We now know some bribed or threatened stewards, some broke in, some doubled up at turnstiles.
Bona fide fans and ticket holders said it was hostile and threatening outside and inside.
Some were scared, had their seats stolen and some left early.
News reports confirm that un-ticketed throngs had been arriving around the stadium all day.
Drink was taken, copiously.
Some think that the un-ticketed outnumbered the fans with briefs by 3 or 4 to 1.
One estimate was that there were 250,000 'fans' in the vicinity of the ground and woefully inadequate plans to control them.
Not acceptable foresight.
And risible management of an event attended by, all of a sudden, vulnerable, ordinary fans.
Totally unacceptable behaviour by frenzied idiots with sealions on their shirts jeopardising innocent, fellow-countrymen fans.
If you pay Uefa silly money for a ticket you expect to get the seat you paid for and be kept safe.
There were months to prepare for this possible final.
There should be proper compensation and a comprehensive rethink.
National Anthem Insight
Last week I suggested that it is time to consign these pre-match National Nonsensities to the bins and most of you agreed.
As expected many English fans booed the colourful, stop-start, 'Il Canto degli Italiani' which is a patriotic call to arms and sounds ancient but was only adopted as recently as 1946.
When it was time for "God Save the Queen", we saw many English fans 'gie it Laldy'  with outstretched arms as if they were issuing their opponents a challenge, Haka style.
The excellent NYT 'soccer' columnist and Englishman, Rory Smith, in his 'On Soccer' weekly column insightfully picked this all up.
He also introduced his own thoughts and those of a journalist at 'The Guardian, Barney Ronay'.
Rory said 'There are certain things that England Fans do that are unique. They sing "God save the Queen', a pretty tame song, at opposing fans rather than hand on heart to themselves like other nations with their respective anthems'.
Rory also introduced me, for one, to  Ronay's view of 'God Save the Queen'.
Barney said, 'It's little more than a dirge pleading with an entity that doesn't exist to preserve one that shouldn't'.

No OBE on the cards for him then.
Racism Sees 5 Arrested So Far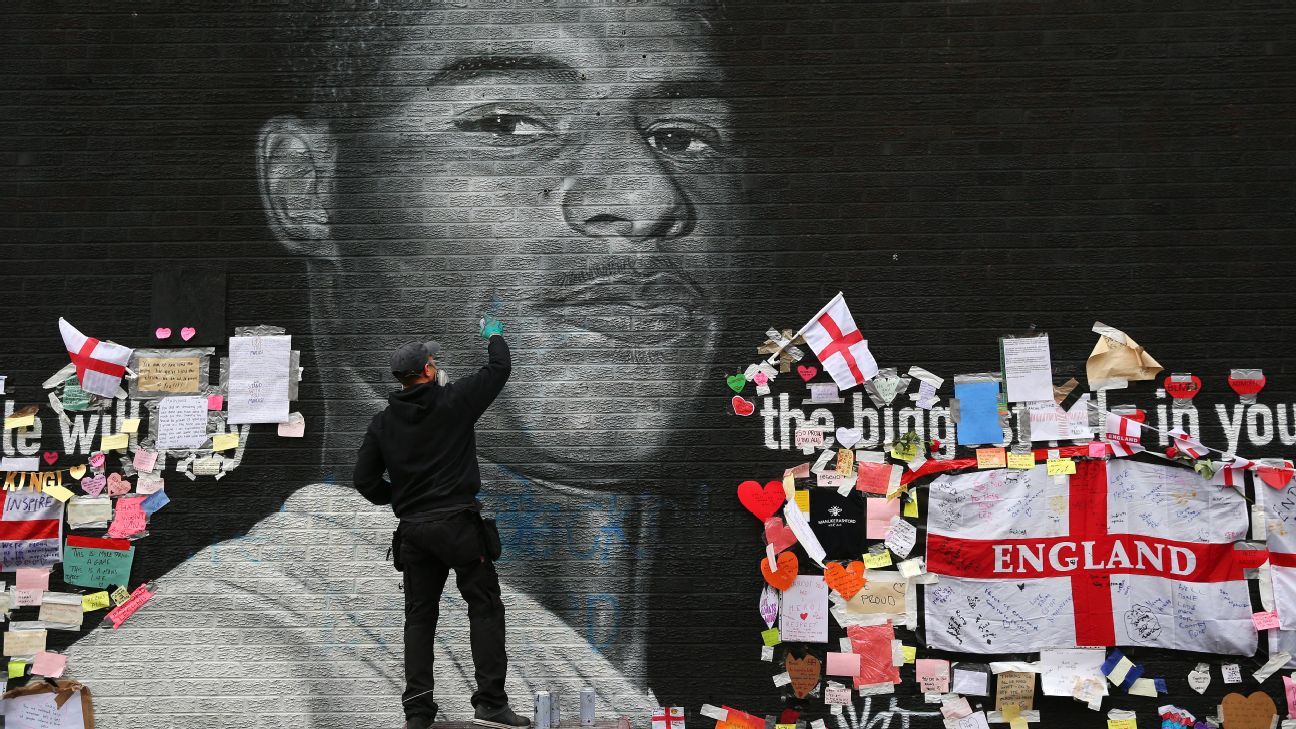 Reports today say 5 arrests have been made for the social media abuse of the three penalty-missers, Rashford, Saka and Sancho.
There is no place in our game for any kind of racism whether racial, religious, international or whatever.
Work needs to be done down there, and up here too.
There isn't a reader of this blog who has not heard or seen unacceptable stuff at Scottish football in the past.
This season, with increasing crowds coming back will be interesting to see what happens if, when, some of the old ways try to re-emerge.
2. European Mess
I laughed out loud last week when the Sunday Times Magazine stole my Roy of the Rovers imagery for their take on the 'European Super League'.
The journos there called the planned breakaway of 12 clubs 'A dastardly plot' and how 'Big money and outlandish owners almost took control of European Football'.

It was an interesting article but didn't offer anything new and failed to address the inherent dishonesty and hypocrisy behind the fact that the Champions League itself is already a 'European Super League' and is already where 'Big money and Outlandish Owners' have stolen control and wealth away from all the wee nations like us.
Some years back Barney Ronay, he of the national anthem insight above, wrote this wee summary about the Champions League and got it bang on.

'The Champions League is a competition invented by money, for money and with the intention of furthering the future prospect of money.
Every now and then it goes too far and gets a tweak back into line – remember the second group stage? – but it will always push at the boundary of good sense.
Having said all that it is also a brilliant thing, the highest standard of football currently being played'.
So nothing is ever simple in football.
When Uefa and various football leagues including the EPL attacked the recent plans by the gang of 12 the 'faux outrage' said a lot about the self-interest at the heart of the game.
But this is a story that won't go away because it is about money and the big clubs will always want more.
Two weeks ago a Spanish court ruled that Uefa could not fine member clubs as it had intended because they had been looking to a different future.
The ruling Spanish Court then asked the European Court of Justice for an ultra-fast response to the Spanish findings.
The ECJ said no.
They will consider the matter in due course and not in the expedited way the Madrid court wanted.
In the meantime Barca, Real, Juventus and JP Morgan, the  financial facilitators, are all to be kept on Uefa, grand fromage, Sandy Ceferin's naughty step.
3. The SFA Clubs Indicate 'Rejection'
There will be no vote on the paper we discussed last week that combined among other things league enlargement with Rangers and Celtic's colt teams in the SPFL3.
Clubs had some support for some of the contents we were told.
The quote at the end of the SFA press release is also worth repeating.
'The Professional Game Board exists as a forum for strategic discussion on ways of improving the senior game in Scotland. It remains committed to working collaboratively to that end and we thank the members of the Innovation Group for their contribution to this proposal".
So, there you have it, in black and white, from the 6th floor.
I can hear you thinking 'what a load of platitudinal bollocks'!
Maybe this would have been a more realistic conclusion.
'We have a commitment to working collaboratively with some of our more interested members but not and never engaging with season-book owning stakeholders. We'll keep everything secret too because that is the way we've always done it'.
4. Consistency and Openness
This week saw Killie's recent victory against East Kilbride overturned and Kilby given a 3-0 victory because Kilmarnock played a sub who was not eligible.
Fair enough if that is the rules.
Two years ago almost to the day Hearts had played the then Highland League side, Cove and fielded an ineligible player, Andy Irving.
Hearts were smacked a little and given a £10,000 fine with £8,000 suspended for good behaviour.
They were penalised 2 points, not three.
Cove didn't get given these points for some reason like Kilby just have.
It looked like the big club were being looked after better than the wee club.
Hearts qualified and Cove and also Inverness as Hearts nearest rivals lost out.
All done in the usual closed room, make it up as you go along, style.
Am I the only one who finds that all disturbing and wrong?
Not just the decision but the lack of information about it.
Consistency and openness leads to more consistency and openness.
All this stuff should be a matter of public record.
What the issue is.
What the facts are.
What the decision is.
And why.
Scottish football is crying out for openness.


5. The Meaning and Power of Words
Last week I congratulated the West of Scotland League for their 'Strathclyde Demolition Cup' with its links to Timetotackle.co.uk
My sub head was "Diddy Leagues Lead the Way' and I thanked the West League for their vision.
I had half a dozen or so replies mentioning this snippet, mostly supportive but for one Chairman the word 'Diddy' grated.
I apologised because to me 'Diddy' simply means the wee-er guys and I said it as both a term of endearment and a badge of honour.
Either way no offence was meant and once again I sing the praises of all the wee guys across the country as they welcome fans back after Monday.
One day those who run our game will realise just how important the grass roots and the pyramid is to both the game and to the population as a whole.
As always feel free to contact me about anything in Scottish Football.
Andrew@scottishfsa.org
The SFSA do not claim to own any of the included images above and will be removed on request of the owner
---
Posted in: Andy's Sting in the Tale, Latest News