Andy's Sting In The Tale (19/11/21) "The Luck of the Draw?"
Date: 19th November 2021
This Week's Sting
First, a Welcome Back to GVB 
Our Road to Qatar
A Pariah Nation or Just Bad Press?
 I Didn't Know Whether to Laugh or Cry
Aileen Delivers
Covid Fights Back
Proud to be Scottish
Scott's Corner
Rod's 'Silvery Tay' Poem
A Fast, Predictable and Very Ambitious Move.
With the automatic group stages place in the Champions League offering a substantial financial carrot Steve Gerrard has been quickly replaced by one of the club's own.
Giovanni comes with a track record and when the dust settles we'll see just how much the Ibrox Board will have to dig deep to match GVB's aspirations for the club.
After the worrying 'going concern' auditor's comments in their recent annual numbers the disruption and the need to match his ambitions will put more pressure on revenue generation and directors revenue-gap funding.
In football every move is about risk and reward.
Good luck to him and the Scottish back room team he is building after the Gerard clear out.
1. Just Two Games Away from The Heat
On 26 November Gianni Infantino will dust down his lucky, Tyrolean hat, the one with the wee feathers in a silver holder on the hatband, and welcome the cameras to his corporate palace in Zurich.
He likes this hat, having found it hanging up in predecessor Sepp Blatter's office after he moved in.
Mr Blatter had left his office rather suddenly.
And Sepp is still on the naughty corner, alongside his French protege, Michel Platini partly due, some think, to the reasons and process where Qatar were awarded the 'summer' World Cup, not that long ago.
And all heading, we've been told, to a court in Switzerland soon.
Maybe.

Maybe Mr Blatter knows where too many bodies are buried and it will all just fizzle out?
But at least the World Cup is no longer scheduled for the '45 degree plus' heat of a Qatari summer like we were originally suckered with.
Scotland will be in his wee hat next week with at best a 1 in 4 chance of progressing. (A naïve assumption because we know not all participants are equal and the odds are actually longer)
Anyway, well-organised as always, Fifa's Grand Fromage, Gianni Infantino, will have had the 12 balls prepared by one of his minions and several rehearsals to avoid live screw-ups like happened to his SFA President pal, Alan Macrae, in 2016.
There might also be celebrities helping make the draw like David Beckham, The very willing Face of Qatar for a mere, contractual £150M.
There will, I have been told, be no place for that mischievous drawer of balls, Rod Stewart who has been blackballed by those in charge.
Something to do with emptying Sky's Green Room cocktail cabinet a few years ago.
So Here We Go
12 Balls, one ball per country, 6 seeded, 6 unseeded all in Gianni's wee green Tyrolean.
All representing 'qualifiers' looking for one of three 'World Cup tickets'. (Fifa speak', – I think they've been watching Willy Wonka too much.)
Twelve countries who will make up three separate play-off semi-final groupings.
Then it's 90 minutes plus extra time and penalties if needed, to deliver a result on the night.
In our grouping the other 'home' team and our likely mini-final opponents if we win, will come from Italy, Portugal, Russia, Sweden, and Wales who are the other seeds.
I've been told the first-drawn seed or their opponent are scheduled for the home advantage in the final.
All seeds will be up against whatever Sepp's hat delivers from the non-seeded group consisting of Austria, North Macedonia, Czechoslovakia, Turkey, Ukraine and Poland.
I don't think they plan to use hot and cold balls to keep some teams apart like some associations, maybe even our own, did in the past.
But if they did I'd ask Gianni to ensure that Euro winners Italy and previous Euro winners Portugal find another semi-final grouping, well away from us.
We Are Statistical Rabbits
As I write, of the 12 countries, Scotland actually have the second lowest Fifa ranking but that was a month ago before we added two victories.
I'm not phased and more used to being or supporting one of the 'diddies' and actually think it is to our advantage too.
Talking with pals this morning we think our worst possible scenario could be a grouping with Italy, Ukraine and Poland and our best potential group would be Russia, Turkey and North Macedonia.
No easy games though, with the first at Hampden on either 24th or 25th March.
If we win we'll then have a 'cup final', at home or away, just 4 days later on 28th or 29th March.
With no rabbits in Fifa's Tyrolean hat on the 26th it's a mountain but we have momentum.
Well Done Stevie and All Concerned.
We are looking more and more like a team.
And with one home game guaranteed we will not be fancied by the other qualifiers.
Yes, we have a better crop of players than we've had for a long time. but we are also playing more and more like a club side even when changes are enforced.
One such gap was well-filled this week and a special thank you is due to John Souttar after years of injury hell.
After the match Kasper Hjulmand, Danish Coach, said 'They (Scotland) have done a quality job and they have a connection with the people like we do with our own fans in Copenhagen, Scottish Football is also up for something great in 2022 and I hope they join us in the World Cup'.
Well Done Tartan Army
A sell-out crowd and a jumping stadium.
Good for our players, good for the SFA bean-counters and at last something positive to unite Scottish football and all fans.
Another Danish quote sums up just what a difference the Tartan Army makes.
'Hampden was a wall of noise that made us make some mistakes and we had an uphill task'.
Fan power at its best.
Roll-on next Friday's draw.
Roll-on March
2. Qatar or Not Qatar?
A host-venue awarded after cash and favours were bartered liberally, far and wide to lubricate and facilitate both the process and the result.
We all know that 'exchange of favours' happens before any venue is chosen but this one was right up there with the worst.
Corrupt to the extent that some politicians in countries like Germany, Norway and Denmark think the award should be null and voided.
None of us can argue with that but right now we're now busting a gut to make it to next winter's tournament in a country with unacceptable human rights and worker rights issues.
A country where being in the LGBT community is seen as perpetrating crimes and punishable.
A pariah state where immigrant construction workers earn £12 for an 11 hour day in 40 degree-plus heat building the 8 new stadia that were needed.
A nation also shunned by its neighbours.
Yes, the award was political and probably illegal in many ways.
I don't know what David Beckham thinks but I do know he has agreed, for a modest £150M, to be the face of it all.
To help in the Sportswashing required.
Our group winners, Denmark, has just said it will progressively introduce a series of measures to highlight human rights abuses in Qatar and will actively minimise its assistance in Qatari promotional (Sportswashing) events. – ' We will take advantage of the fact we have qualified to work for more change in Qatar'.
Whether we qualify or not I think the silence from the sixth floor, and the other home nations on this so far, is deafening.
I hope we make it to Qatar.
And hope when we go we play well.
But whether there or not we can join, make and take a positive stance with the football family united to embarrass Fifa right royally and help facilitate change.
In the meantime, Gianni Infantino is in Qatar just now.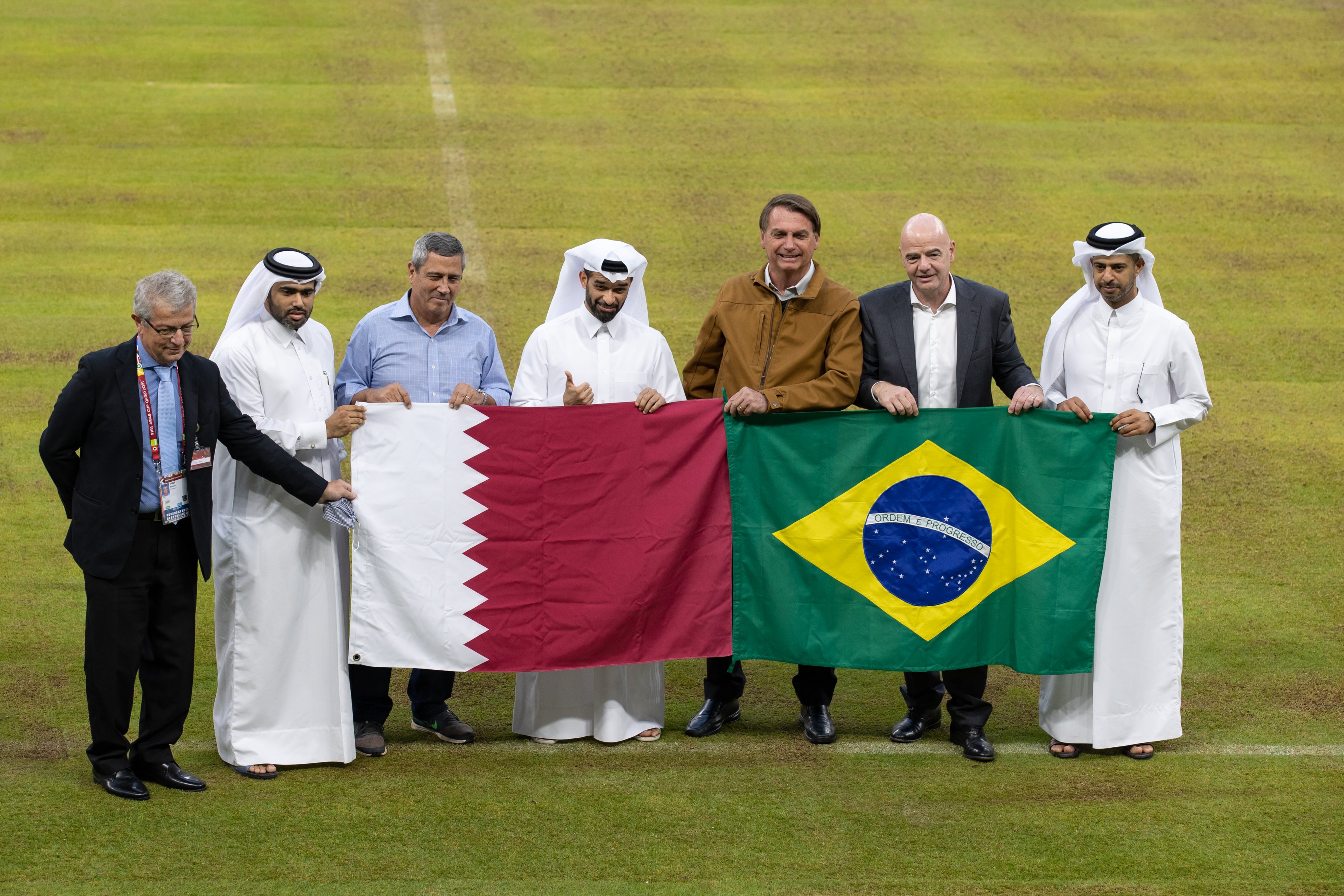 At Doha's Lusail Stadium, with Brazilian President Jair Bolsonaro who was also there on a state visit (much more important than being at Cop 26).
Gianni gushingly said 'For those who love football this will be like a toy shop to a child. 8 state-of-the-art stadia within 50km of each other, some of the most beautiful in the world'.
A total ducking of his responsibility as head of a global power, on behalf of fans of all hues in all nations.
Obviously, Cops 1 – 26 have gone whoosh over his head in the madness that is Fifa!
3. When a Cartoon Punches in a Thousand Ways
David Squires is a Swindon Town fan living now in Sydney and his popular football cartoon strips run weekly in the Manchester Guardian.
He has the cartoonist's ability to cut through so much and one of his illustrations last week about Fitba behind our 'Irn Bru Curtain' was brutal and brutally insightful about our game.
The story was loosely about the return of Steve G south to Aston Villa.
David's vignette features the only two teams that exist in Scotland* playing in front of packed stands set against some rolling residual mountains.
Under the Tunnock's floodlights on a grass and thistle pitch we have the Queen backed by Nessie taking on the weight of the catholic church backed by Rod the mod.
A grumpy faced Alfredo has just been sent off, the sun is unhappy and unshaven with a wee Scottish inventor in a kilt on a flying bike trailing an advert and taking it all in.
I don't know who the face on the sun is meant to be nor who the guy that looks like Jonathan Watson is, but David's skills are ruthless.
It is sad that the outside world sees us this way but much of it is self inflicted.
Is it not time the outside world knew there were more than 2 teams in Scotland?
Is it not way past time that the BBC and our red tops knew that too?
Is it not also time the establishment and religion that somehow dominate Scottish fan alignment and recruitment were consigned to Sepp Blatter's naughty and forgotten step.
*This is one of the biggest bugbears our research constantly highlights and is singlehandedly accelerating the demise of the MSM titles calling themselves nationals.
4. Aileen Says, Park's New Sponsorship was a cinch
The press releases this week told us that Scottish Women's football has a new sponsor for the remainder of this season.
The excellent SWF CEO Aileen Campbell said 'This, is a positive for the girl's and women's game and the fifth continuous season that the SWPL has had a title sponsor'.
(Park's replaces The Scottish Building Society whose agreement finished at the end of last season).
More Questions than Answers?
Aileen's press release didn't say why the sponsorship has kicked in late after 1 full round of fixtures, how much Park's deal is delivering, or how long the Park's deal is for.
Not sure why and I don't know if anyone at the launch asked?
That is not to do the deal down, it is welcome even as part of a proxy war with the second hand company who sponsor the mens' leagues.
I do think it is fair to say, 'Hampden we have a problem'.


Scottish Football, boys and girls, women and men, doesn't seem to have a healthy queue of reputable sponsorship suitors despite the media presence our game more than delivers.
That is a real issue and a subject worth some thought investigation and investment.
Maybe Ron Gordon's 'Deloittes Report' will touch on it.
I'd say it is an urgent requirement.
5. 55,000 Dutchies Posted Missing
No Fans at the Johan Cruyff Arena for Netherlands v Norway ahead of a 2-0 home win.
Despite what we think and hope, nowhere is Covid free, and normality is not guaranteed for any of us.
Until last week fans with vaccine passports were allowed all into games in Holland until a sudden three-week lockdown was introduced by their cabinet.
One good thing is games in their top two leagues will continue but with no fan access.
Meanwhile next door in Germany a 4th Covid wave right now is causing real concern and the country could follow Austria's lockdown for unvaccinated.
Could it happen here too?
Yes of course.
 6. November Sunshine Mark 2
A picture paints 1000 words.
Well done to the young fan for coming along with a home made poster asking for Che's shirt.
Well done to Che for giving.
Sheer class.
Lots of smiles at Hampden after the game but hers was the biggest.
7. Scott McTominay's  Corner
It seems Scott's club, Glazer-owned Man Utd, are sounding out Zinedine Zidane to come to the rescue.
I don't think they've told wee Olly yet.
Also, Gary Hoffman is resigning.
No, he's not a non-league manager you've never heard of but the Chairman of Scott's Premier League who was only appointed in April 2020.
His fatal mistake was allowing and maybe even facilitating the Saudi takeover of Newcastle.
The other clubs have ganged up on him and there always has to be a token casualty.
I wonder if he said 'Et tu Brutus' in his valedictory remarks.
But the Saudis have their club and that won't change.
Sportswashing.

8. Rod's Wee Poem
It seems after our wee 4 liner to celebrate the hidden SFA process quietly removing the Silvery Tay as the barrier between Highland and Lowland League football catchments hit the spot.
There are obviously a lot of latent McGonagall fans out there and you agree wholeheartedly that President Rod's wee promise to a friend should have been debated openly.
After Cop 26 we should be looking at our game's carbon footprint big time.
Sadly I can't wave a wand and change Scottish Football so that it becomes fan friendly, sustainable and genuinely transparent.
But I can herald the shenanigans in William Topaz McGonagall's finest style.
So with apologies.
Rod's Tay Tragedy
Beautiful football both sides of the Tay
With skills abundant in such grand array
No need for division the good folk would say
From Wick Academy to the southernmost places
Teams can pick where they play with joy on their faces
The boundary had long been the silvery Tay
And it made sense to many to have it that way
It brought stability, and a sense of decorum
Till a departer protested, while still at the forum
On a clear sunshiny day in a far away place
It is said President Petrie has acted with grace
He knew just what to do and had promised his friend
Thus the Silvery Tay barrier has come to an end
Finally, as always, feedback and opinions welcome.
Andrew@scottishfsa.org
The SFSA do not claim to own any of the included images which will be removed on request of the owner.
---
Posted in: Andy's Sting in the Tale, Latest News