Andy's Sting In The Tale (26/02/2021) "FIFA Runs Out of Time"
Date: 26th February 2021



How Convenient is That?
The "Statute of Limitations" whistle has come to the rescue this week of several ex high ranking football people in Germany including Franz the Kaiser and FIFA itself.
We don't read about it much in our papers but FIFA has seemingly been "investigating"  Franz Beckenbauer and other officials for a missing 6.7 Million Euros which allegedly built a slush fund and helped Germany win the hosting of the 2006 world cup tournament in a very tight final 12-11 vote against South Africa.
.

Theo Zwanziger, Wolfgang Niesbach and Horst Schmidt who were previously German Football leaders and a former FIFA number 2, Urs Linsi all are said to have now escaped punishment of any kind because time has run out.
Beckenbauer, deeply connected with the case had allegedly used ill-health as a means of avoiding any charges. This annoyed FIFA ethics judges who said on the record, "Mr Beckenbauer's actions were related and limited to the bribe paid to Mr Hammamin 2002".
The same ethics judges disputing the "Kaiser's" ill-health avoidance card also said, "His (Mr Beckenbauer's) medical condition did not prevent him from attending events, travelling to foreign countries, posing for pictures, making speeches and giving interviews".
Anyway it is all closed now with the statement "cannot be prosecuted due to the expiry of the applicable limitation period".

So a Timely Conclusion in Switzerland?
As recently as last June Gianni Infantino the FIFA president had vowed, "This story is not finished".
Well it is now Gianni.
Maybe that was the plan all along?
It's all deep in the Swiss long grass forever.
Are we all thinking that everyone is happy with an outcome as clean as the Swiss mountain air in that "Hills are Alive" scene in The Sound of Music?
Or is that cynical and unfair?
112 Days Till Wembalee?
Uncertainty abounds about where and how the Euros will take place.
No word this week from Sandy Ceferin the 7th President of Uefa still cooped up in his Alpine bunker.
So no real news.
Just planted chatter.
And plenty of that in both the media and across the various web sites where stuff gets leaked.
The point has been made all week, in various places, that London is one of the few cities that could not only host all the games with all its stadia but also have enough training facilities to cope with all 24 teams.
We have been told again that since London is already scheduled to stage the semis and final then why not give London the whole gig?
Not sure if Hampden is seen as part of this new London bubble, probably not?
Of course this is all unofficial, planted chatter and the Uefa plan remains for now a 12-venue/country event.
In the meantime and obviously coincidentally, Boris came out with a helpful plan to test a "packed football stadium event" well ahead of the Euros with pre and post tested volunteers taking part.
This Boris' "events research programme" is we are told scientific and still being scoped out.
All in a week where a Scottish ref team fell foul of Covid from a daft and unnecessary trip to Athens and after there has been some alleged but significant "Gallic disregard" for agreed French rugby Covid protocols.
The outcome was a late call off for the France vs. Scotland game.
A reminder of just how fragile international cross border sport can be.
Back home our new minister in charge of football and other more serious stuff like our Covid vaccination programme, Mairi Gougeon, said that Uefa's April decision day that is heading Hampden's way may be too early for us to make any call about what might or might not happen at Mount Florida.

She simply summed up the reality of the situation saying, "It is not possible for me to say where we'll be come April".
"We're in regular contact with the Scottish FA but there is so much that we don't know".
Fair enough Mairi and the Scottish elections slated for May 6th won't help much either if fast decisions are needed.
Boris in the meantime has announced a possible but planned return of up to 10,000 fans in England, by May 17.
We as yet have no such hopes or targets set for north of the border.
I guess it's becoming a populism vs. pragmatism kind of contest and it may yet meet in the middle.
Only time will tell if we will be singing off the same song sheet in the summer or deciding to be different.
My son says Uefa haven't cancelled our Hampden tickets yet.
Scotland Vs. Ukraine
Another fine result for Rangers and Scotland last night in the Europa League.
You all know by now I hate everything there is to hate about the Uefa coefficient and how it has been bad for football in all countries outside the top elite.
We as a nation have been improving and are currently marginally ahead as the country in line for the next automatic place in the Champions League for next season (as long as the winner of this years competition also qualifies via their domestic league position).
That usually happens though.
Anyway our opposition in the Coefficient ladder Championship race to hold on to our 11th place is Ukraine just behind in 12th with just a bawhair between us.
It's a real tussle too.
In our blue corner is Rangers effectively fighting for their own upgraded place and against them are two Ukrainian clubs, Shakhtar Donetsk and Dynamo Kiev.
The next round on March 11 and 18 may see a result or it may go to the wire.
Kiev play Villareal.
Rangers play Slavia Prague
Shakhtar play Roma.
Games on.
A Tale of Three Crocuses
The sad and disturbing reports of Gordon McQueen's vascular dementia broke earlier this week.
His dementia is almost certainly a football related delayed injury.
All those headers in practice and in matches from a young age.
I remember those waterlogged footballs weighing twice what they were at the start of a game.
How many footballers suffered from all those mild headaches and shrugged them off with a couple of paracetamol tablets with their first beer afterwards.
Dementia from football is a subject area that needs even more urgent and fast research to augment the good work already being done by Dr Willie Stewart at Glasgow University and others too for the English Football Association.
Our game needs to bring this whole unwanted legacy to a conclusion and act to stop it recurring.
I was thinking about this while out with the dog on the Meadows in Edinburgh where the crocuses are currently at their best.
It made me think that I saw Gordon when he was at his best too and also made me remember a wee crocus story about him.
He was a wonderful footballer and a commanding centre half at St Mirren, Leeds, Man U and in the blue jersey of Scotland.
Isn't it extra ironic that Leeds bought him from St Mirren in 1972 to replace Jack Charlton who also developed football related dementia?
Anyway let me take you back to a wonderful, balmy football afternoon in London on June 4th 1977.
The majority of the near 100,000 crowd had made the pilgrimage like me and Wembley was a sea of tartan and a cauldron of noise.
Ally Macleod our manager was a nice man, a good motivator but never big on tactics.
However his "Jordan to the front post" and "McQueen to the back" at corners and free kicks created havoc, panic and worked well.
Gordon's magnificent towering header from Hartford's perfect cross put us deservedly ahead and our team played well in a match where just losing 2-1 flattered the hosts.
It was a great game to be at.
I still remember thinking just how good a player Danny McGrain was.
He was at his best that day and the auld enemy were never in the game till sub Dennis Tueart came on with 20 minutes to go and we saw a late rally and a Channon goal from a penalty.
I was with a bunch of pals from home and my dad, Donald who'd always wanted to go to the Wembley fixture.
It was a fast trip.
Down on the Friday overnight train, with tickets to Ealing to get the best price after British Rail in London had played silly buggers with the weekend special fares to London, and then back on the Saturday overnight train.
Donald, my dad had become a passable Scotland fan after 30 years up north but he was from the East Midlands and had an accent to match.
I knew he would cheer England goals too like at Hamden the year before when Mick Channon had scored and I had warned all the people around us about him supporting both teams.
Luckily there were no Donald-induced international incidents and after the England goal the last few minutes lasted eons.
But the whistle blew and being near an exit we were out pretty quickly and oblivious of the pitch invasion and the removal of posts and turf.
It was after we were ensconced in a hostelry near Kings Cross Station that we heard about the mayhem from others as dribs and drabs of our party gathered and celebrated the victory in style before the train home.
Warm London beer, lots of it, and fish and chips but it could have been champagne and caviar.
Even better, my pal Billy came in late on with a two foot square piece of Wembley turf under his jumper.
He offered me a small piece and I was pleased to accept it.
It was duly and ceremoniously planted in a pot and kept on our mantelpiece back home for a while until after months of nagging from my mum I planted it in the front lawn.
Underneath I also placed two blue crocus bulbs, and a white one.
All 3 looked great in 1978's March sunshine when we had a garden scoreboard.
Blue 2 White 1.
McQueen, Dalglish and Channon.
Springs were later then and as far as I know they will still be flowering in our old garden right now. The people living there will have no idea why there are blue and white crocuses in their lawn.
Thank you Gordon and good luck to you and all the Dr Willie Stewarts and others who are trying to prevent this delayed mayhem from heading footballs.
Football at the very top needs to get more serious about head related issues and injuries.
Concussion Subs Green Light by SPFL
In December the International Football Board proposed a trial where up to two additional substitutes could be used if a player has to go off with a head knock.
To slow down any thoughts of clubs playing the system for personal advantage, as if any team would do such a thing, the IFB also proposed that their opponents can also make an extra substitution at the same time.
Our clubs this week voted to allow the trial to progress.
So that is a good thing.
We Have All Been Heidbangers

Who knows the damage that generations of us have absorbed?
Who really knows what is happening today?
Football needs to address the heading issues.
Not just in the youth and juvenile ranks like is happening in some places at present.
If this means a change then the game needs to change.
It shouldn't be a debate.
What Happens Next When Top Seeds Only Come Third?
Our girls thumped Cyprus last week but then lost to Portugal this week.
The record now shows we lost all four key games to Finland and Portugal and didn't even score in any of them.
We also currently have no head coach because our last one "resigned".
People in the game tell me we have previously performed above our "investment grade" and we need the SFA to take the girl's game seriously.
They don't think that is happening.
They don't have confidence that it will either.
Stuart McLaren had said he had never been looking beyond two games in interim charge and is now looking to recruit.
That's fair enough Stuart but our girls and our girls' game need some answers and a real strategy to maximise what it can become.
From grass roots right up to our internationals.
We're all watching Rod, Ian, Stuart.
Mulholland Cul De Sac
This is such a story that I'm now getting sent "Scottish Legal News" snippets by some of you.
Anyway Andrew Smith QC, no relation, representing David Grier said this week that Lord Mulholland is going to be pivotal in answering questions about his actions while he was Lord Advocate.
He will be a witness and questioned in the Court of Session and it's all heading our way for April.
And at last it seems the mainstream press and Aunty Beeb are picking this up.
BBC Scottish Cup Poll
http://bbc.co.uk/sport/football/56142531
BBC Scotland are polling fans on 4 options for this year's Scottish Cup.
They offer 4 options.
1. Scrap it.
2. Play it next season.
3. Have a Finals-Style Fast Tournament.
4. Throw smaller teams out.
(Just like they did to Whitehill last December)
I've already voted and therefore know the current percentages but have your say and see where it ends up on Sunday night.
Caley vs. Hearts Breaks All Box Office Records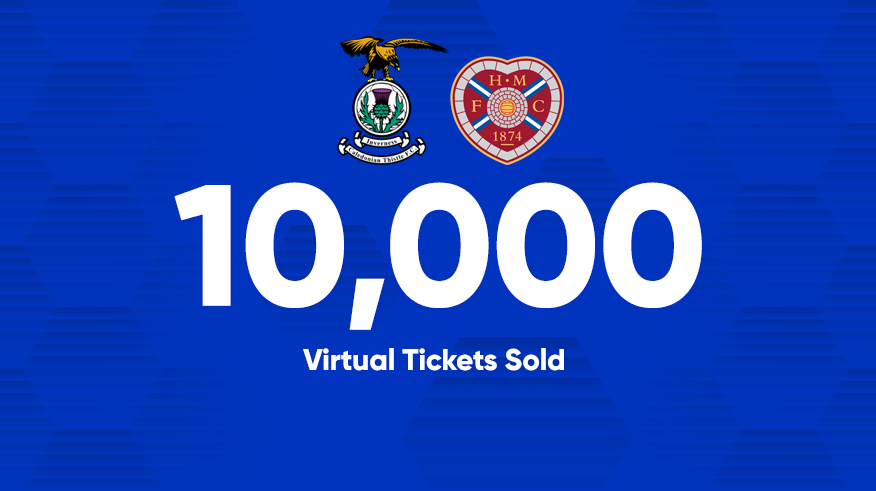 With over 10,000 virtual tickets sold tonight's match is also live on the BBC Scotland channel and free.
One of my media pals said if everyone with a ticket watches it will be the channel's biggest ever audience.
I'm looking forward to being there and in the meantime good luck and a swift return to Robbo.
(Stop Press – A great advert for our championship and free to air too and over 11,000 tickets sold)
Finally a Big Occasion and a Few Yes / No Questions
Good luck to Livingston and St Johnstone in the League Cup final on Sunday.

Kick off is 2 pm and the game is live on Sky but not on council telly which is madness during a time of lockdown when we should not be encouraging fans to visit other homes to watch a game.
Like too many other things in Scottish football this tournament is sponsored by a betting company.
A company on the make, pretending to be partners, selling an addictive product and looking to both recruit new users and to convert existing occasional users towards addict status and therefore more profitable to them.

So Some yes / no questions about gambling in football.
Will there be advertising at the match targeted at underage viewers?
Yes. (But not officially).
Is This Intentional?
Yes.
And had it been between bigger teams the advertising would have reached far off places where gambling advertising is banned and that would have been a bonus.
The sponsors will be unhappy about the finalists and the match revenues from tv broadcasting add-ons will be less than budgeted.
Do Any of the Gambling Proceeds Currently Coming into the Game Go to Fund Gambling Education Programmes in Our Schools?
No don't be silly.
Not even to help fund Paul Pettigrew and his excellent Gamtalk charity.  https://www.gamtalk.org/
He asked the SFA but they declined to help.
They don't acknowledge they are part of the problem.
They should because they bloody well are!
Is this the same type of gambling as raffle tickets and football pools coupons?
No this is the door to a wonderful world of interactive and immediate football-related gambling plus much more.
You'll love it!
Sign up and you'll get some free bets too.
What are you waiting for?
Can any of our professional football players not involved have a wholesome bet on the various outcomes?
No, don't be silly we don't allow it in the game, just the stakeholders who fund our game.
Do Any of the Betting Firms Care About Our Sport?
No this is business and football is a cheap medium.
Has Football's Association With Gambling Companies Helped Fuel the Impending Tsunami of Gambling Addiction?
Yes.
Research says football's links with gambling are causing long term and (mostly for now) hidden chaos.
As always feel free to drop me a line about anything football related.
Andrew@scottishfsa.org
The SFSA do not claim to own any of the included images and will be removed on request of the owner.
---
Posted in: Andy's Sting in the Tale, Latest News