Andy's Sting In The Tale (29/10/21) "Giant Sprawling Temples of Self Importance, Disney Princesses and Wattie"
Date: 29th October 2021
This Week's Sting
A Thank You
Rory Smith Hits the Spot
Has John Been a Very Naughty Boy?
Goldenballs and Sportswashing
I'm Looking Forward to the Yorkshire Ref's Verdict
1. Wattie was World Class
Sad news this week with the passing of a great man, husband, father, friend, Scotsman, manager and dressing-downer of Chic.
For much of his career Walter was unsung, and indeed he may have preferred it that way, but his influence was there in plain sight.
That is if you looked.
Wattie was much bigger and more influential than the narrow, Rangers-dominated focus we have seen in most media outpourings.
People who knew him at Ashfield, Dundee United and Dumbarton knew what a strength he brought and shared on and around the park.
Just how many youngsters did he coach at first hand behind the scenes as well as on the field and how many lives did he help positively?
What was his influence when playing for Dundee United reserves where he still holds the record number of appearances at 360 and can we bottle the spirit of Smith?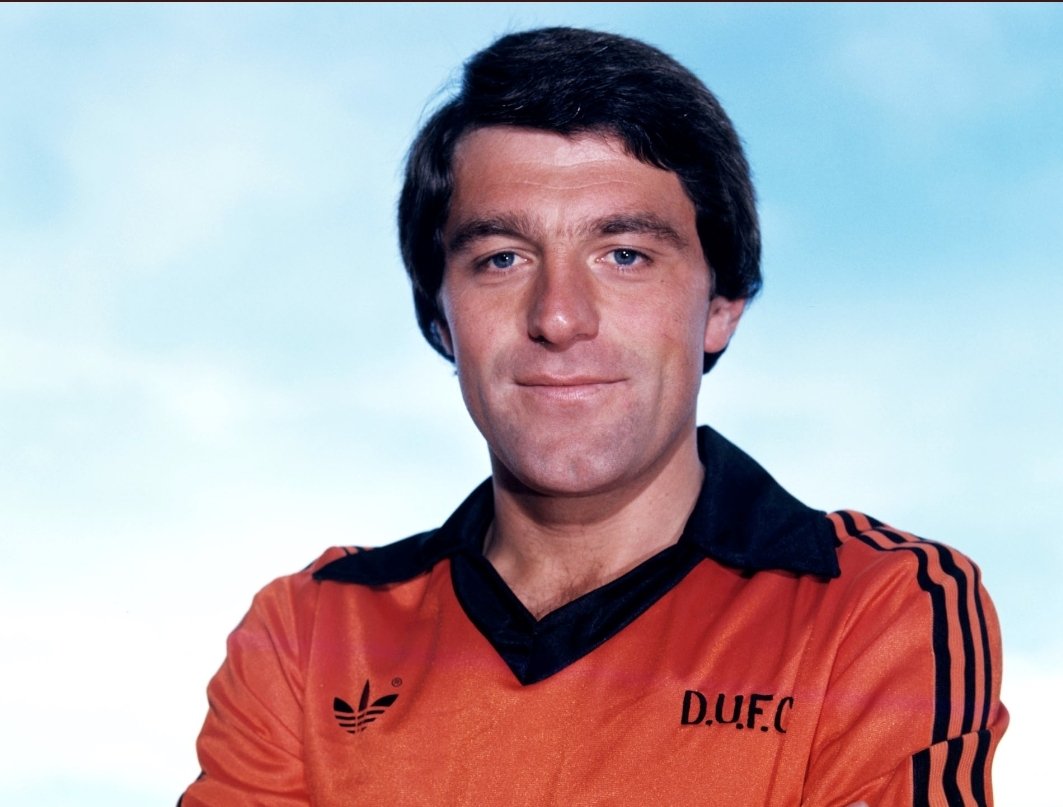 He was always an unassuming leader who just got on with it.
Folks at United knew how important he was.
Wee Jim may have been in the limelight.
That happens.
But those at the club and the football insighters close enough to know what was really happening at Tannadice could see the crucial link he played between the very volatile wee Jim and the team.
Without him, would United ever have won the league or reached the last 4 in the European Cup?
No.
Fergie, up the road knew what was going on.
When Walter was recruited by Fergie as number 2 for Mexico '86, Fergie, having taken over as Scotland manager in place of the deceased John Stein, said 'There are few people in the game with his experience, knowledge and technical ability'.
As Scottish manager years later, we also have to thank Walter for our highest ever Fifa world ranking when we  climbed to the giddy heights of 13th.
Walter would agree that he was never the greatest player but had his moments.
I have a huge memory of him kissing his boot after scoring against local rivals, Dundee in the early 70s.
And I loved and laughed out loud at a wee 'discussion' he had with Chic Young in the Ibrox tunnel after a 'soupcon' of a disagreement about something that probably didn't actually matter.
But it was both couthy and very funny.
Quite why Duff and Phelps chose Charlie's Sevco bid in 2012 rather than the consortium of which Walter was a part in 2012 I'll never know.
That's not true – I think we all know.
With hindsight it would have been good for the club and also have saved our public purse millions and millions in the legal nonsense that we now see painfully unfolding like a slow motion train crash.
RIP Walter.
THAT Walter Smith Interview – YouTube
2. Giant Sprawling Temples of Self Importance
I borrowed the headline from this week's, English-based, Rory Smith's football article about world football in the New York Times.
His weekly Friday article is always very good and worth reading.
He won't mind, and I really liked that summary of what football has become.
World governing bodies like Fifa, and Uefa, national bodies managing their domestic leagues, and top end football clubs are collectively using their media power to follow their own agendas.
And if power corrupts then absolute power does indeed corrupt absolutely.
Fans are only important as pay per view, and merchandise-purchasing revenue streams.
The current worldwide race to the top has seen leading clubs being taken over by countries with not as much as a whimper.
And finally American money has woken up to the future bottom-line driven, world importance of our football.
Football offers multiple day, date and time cut-throughs in an increasing age of disintermediation.
That means money making opportunities.
Outside the Olympics and the World Cup few other media experiences compare or cut the financial mustard in the same way.

Disney Princesses  Wanted Urgently
Take it from me – it may hard to become a Disney princess, but it is even harder to become a top end football manager.
And while our wee Scots princess Merida had her very brief time in the sun, she didn't really cut it against Moana, Elsa or Snow White despite Billy Connolly being her dad.
It's the same with football managers.
To cut it at the high level you need to have successfully already cut it at a high level.
Everyone wants candidates who have already been successful elsewhere.
Everyone wants instant success and trophies.
Everyone is fishing in a very small pond and growing your own is as rare as hen's teeth.
In Blighty, Man Utd will soon be looking for their next big winner who must have a track record and guarantee them success.
Newcastle are looking for the same person.
Abroad, Barcelona and others want him too.
Walter Smith would never have even made it any of the Princess short leets.
The fact is even with Merida not quite hitting the heights, Disney have a better track record of getting their princesses right than most clubs with their managers.
3. The Compliant Art of Compliance?
We have been told that John Needham, the St Mirren chairman is in serious malky this week over historic tweets.
He's been a bad boy allegedly because of a breach of the poorly written Rule 77.
I think it is the 'improper use of insulting words' bit.
Allegedly, he has tweeted the 'Sevco' word, the three letter H word with Germanic origins and overtones and also made a joke about hoping some Rangers fans, rampaging innocently towards George Square, would get an early bath in the Clyde.
Let's look at each.
Sevco was the generic, off the shelf new business name by the Glasgow lawyers that Charles Green and possibly Craig Whyte used when they bought and restarted the club in 2012 so factually and technically are part of the 'history'.
The H** word somehow metabolised to become initially an insult thrown by fans of the big two clubs sometimes at each other.
Over time it became more of an insult to Rangers fans and I tried this week to find its provenance.
One popular story is that it was first coined in Wolverhampton by a local journalist after the Rangers fans ran riot after a European tie with the local side in the 1950s.
Something along the lines of 'they behaved like a mob of marauding H**s'.
But if that line was ever written in the press, it would be findable and attributable and it isn't, or rather hasn't been so far.
I think it is just a post war insult and its origins are just that, not religious.
It's just an uber insult aimed at a group of humans, bound by a common cause, and professing to be the superior race of two opponents.
But the reality is the other side are convinced that those who feel superior are in fact the losers.
It certainly belongs to the '50s when Britain professed to have won the war, increasingly on its own, and our media seemed to collectively forget the role of our Allies and in particular Russia and the USA in our achievement.
Finally as for hoping, and then tweeting, that there should be a bridge disaster with multiple wettings and possibly casualties, then that kind of chanting should be left back in primary school playgrounds.
I'd guess the Compliance Office will duly comply, John will get a skelped bum in public and a wee fine and there will be a press release.
On balance, fair enough because Scottish football doesn't need this type of nonsense.
But most fans would prefer that the focus was on the real elephants in our room.
4. The Midas Touch

The question is.
'How much would it take for David Beckham to become a global ambassador for Qatar for their World Cup and for 9 years into the future'?
The answer according to some  media outlets is £150 million.
Not many of us could live on just £15 Million per annum.
And many of us would not sign up to 'Sportswashing' either.
Unless, and there always is an unless: unless Davie boy has a cunning plan that is more than just taking the money and running.
Time will tell.
In the meantime, the head of the Norwegian financial crime unit came out today, calling for a boycott of the 2022 World.
Pal Lonseth feels that the corruption that led to Qatar being awarded the hosting rights should not be rewarded.
"Sport must learn that corruption must have a consequence.
If the Qatar World Cup goes as normal, without consequences, it will increase the risk that the allocation of future events may also be subject to corruption.
"Based on crime prevention, it is obvious that Norway should boycott the Qatar World Cup.
The whole football world should."
Few of us would disagree with what Pal is saying in principle but there is a huge gap between principles and money.
I wonder if this will make David Beckham consider his agreement and indeed what the SFA thinks?
5. Another Honest Mistake or Two?
I'm away in a sunnier place and didn't see the game live but following last week's piece on the 'Celtic by numbers' web site and their post-match reviews of 'questionable decisions' several of you asked me to raise a penalty incident that made a big difference to a 2-2 draw on Wednesday somewhere in Glasgow.
Thanks to those of you who flagged what Bobby from Hamilton said was a 'Tom Daly' level dive and appeal.
I've since seen it on Youtube and wouldn't have given it.
I believe VAR would have helped.
But the penalty was given, the goal scored, and now like everyone else I await the 'Yorkshire Whistler's verdict because I trust him.
In the meantime, the other quote from last week's Sting that hit a note with you was Martin's 'You have a ref, two linesmen and 22 cheating bastards called players, encouraged to cheat'.
Again, the consensus was Scottish Football needs VAR.
Thanks for all the feedback – it is appreciated and often very entertaining.
As always stay safe and feel free to contact me about anything in Scottish Football.
Andrew@scottishfsa.org
The SFSA do not claim to own any of the included images which will be removed on request of the owner.
---
Posted in: Andy's Sting in the Tale, Latest News