Andy's Sting In The Tale (4/9/20) "Warm Up or Predictor?"
Date: 4th September 2020
Honours Even at 1-1 and All to Play For in October
Ok, after three straight wins over San Marino, Cyprus and Kazakhstan we were hopeful. But Israel never looked pushovers and won't be in October.
I'd say we have two tough matches ahead, but there are green shoots and a tightening pool of players.
When was supporting Scotland ever easy?
£80 Million (and Rising by the Week?)
I wrote last week about some seriously heavy and expensive legal stuff happening and severely under reported, yet under our noses, in Lord Tyre's courtroom.
I didn't go into the complex detail at the time but said Lord Tyre confirmed there had been "Breaches of human rights and malice" in several prosecutions regarding the aftermath of the financial problems surrounding Rangers in 2012 and since.
The £80M plus reported being claimed from Scottish taxpayers is a sum that would dwarf James Anderson's recent incredible donations into our game and way more pound notes than Gary Lineker gets paid by Aunty Beeb in a month of Sundays.
Lord Tyre in the Outer House had initially ordered an interim payment of £600,000 after the admission of liability for malicious prosecution.
Police Scotland at the time were quoted as making a point of declaring they had made "no similar admission".
Lord Tyre (sensibly and for a bunch of reasons) had continued the matter for a further procedural hearing this month with a full hearing scheduled for January 2021.
This week this story has been on a turbo charged roll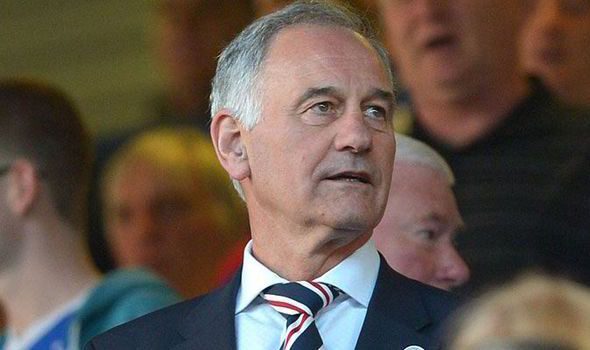 The list of claimants is now bigger and Murdoch's Times and the BBC both reported "Some people believe that the public purse will have to pay out more than £70 Million".
Ouch, ouch and ouch again.
What would money like that do for our schools or hospitals or kids let alone football?
Anyway give or take some £millions here are totals being claimed ahead of the courtroom fixtures heading our underreported way.
Mr Green £20M
Mr Ahmed £30M
Mr Whitehouse £9M
Mr Clark£5M
Plus expenses and costs.
Like the majority of fans I admit to knowing half of bugger-all about how this all works so have been asking people who do.
I now have two insights to share.
First let me quote John, an old and valued friend, not legally trained but smart and who has been reporting reliably on the legalities of stuff like this for a long time.
He honed in immediately on on last week's Police Scotland denial of any blame and used documented legal statements that questioned that particular claim.
"On the relationship between the Crown Office and the Police, here is an extract from a speech "The Apex Scotland Annual Lecture by the  Lord Advocate, James Wolffe QC on 5 September 2017".
"In the Scottish system of criminal investigation, the procurator fiscal      directs the investigation and not the police. In the early stages of an     investigation, the police almost always act on their own initiative; but     it is their duty to report on their investigation to the procurator fiscal and to act upon his further instructions."
It now transpires that  "the Lord Advocate has now admitted that the Crown, under his predecessor Frank Mulholland QC, acted unlawfully during a substantial part of the proceedings" 
I find it puzzling, therefore, that "Police Scotland has made no similar admission".
I sort of nearly understand what John has said and think we will hear more of this going forward.
Next here is a dynamite quote from Todd, a very old pal of mine who has spent a lifetime in courtrooms, so he's a kind of poacher turned gamekeeper.
          "The huge potential bill being discussed in the press is real, very real, and totally unnecessary.
It may be the headline for some but the real news should be that Scotland's chief law officer at the time looks to have been involved in an almost "mob-style" attempt to abuse the process of criminal law (for which he was ultimately responsible at the time).
His successor is now being shamed publically yet still sits in judgement upon us all in our courts system. I'd normally say more cock up for stuff like this rather than conspiracy. Factor in other stuff, the stuff we all know and I'm not so sure. In fact I am sure. This was never a cock up Andy, Hell mend them".
Investment Boom In Fife?
Perhaps the strangest news last week was the announcement to Pars fans that Hamburg based group DAFC Fussball GMBH have taken a 30% stake in Dunfermline with an option to build it to a 75.1% level by June 2022 and purchase the ground too.
Ross McArthur who was the fulcrum around which the pars fans rescued the club in 2013 was quoted as saying the move was "transformative".
I personally have no clue about this one.
I don't know why and can't see why either.
Speaking with a few Pars fans they did said to a man that they are inclined to trust Ross but none know why this has happened.
None are confident but none are aggressively defensive.
In the past we have all seen similar claims of "Investments" in our clubs.
Most times sadly this kind of thing just proved to be a precursor to either planned asset stripping and carpet bagging or another new but deeply flawed and unworkable business model to grow and sell on talent that never quite seemed to work and left the club worse off.
Lots of us watching this one.
Welcome to 325 new "Passively Disgruntleds" joining this week
Welcome to you all.
You will never be taken for granted here.
Your opinions are valued and make us what we are.
Our Bona Fide Euro Champions League Proposal
Last weeks idea a new European league for real champions of the non-big 5 nations hit the mark.
It was our biggest postbag item yet.
We all want our SFA and all their equivalents across the continent to grow the cojones it will take to bring real deep-rooted change to our European competitions.
You agreed our idea was a smart move and especially liked
– Every country qualifies and plays
– No prelim rounds ever.
– No knockout till the later stages.
– Regional initially and seeded
– And a major percentage of the revenues redirected to grass roots across all associations and not just to the clubs lucky enough to take part.
This one won't go away.

Four of you made a point of telling me you didn't agree that our SFA duo Rod Petrie and Ian Maxwell were cuddly
Each to his own I say and maybe one day Rod and Ian will embrace us.
Ali Smith Thanks SFSA for Mansfield Town Discovery
A couple of weeks ago we mentioned our member Ali Smith who is still currently the UK best seller with her book Summer.
Ali a well known Inverness Caley fan had previously told us her dad had played for Thistle and her brother for Caley and said she was a big fan of the club and the whole pyramid that has allowed clubs like hers all over Scotland to move upwards.
It seems her dad unbeknownst to her had also played for Mansfield Town (wartime) and various Navy selects pre-demob.
Anyway a Mansfield fan had read my blog and written to her to tell her about it.
Big thanks to Albert B in Collingham Notts from Ali and SFSA.
"Forthright Hard-hitting Revolutionary and Successfully Buried Deep in The Hampden Long Grass".
Here are two things we know that are buried there.
The McLeish Report 1
The McLeish Report 2
What else is hiding and shouldn't be?
I'm looking for nominations for our SFSA Hampden Long Grass file.
Maxie's Groundhog Day Questions
Lucky this is my favourite film.
These questions will however not go away even if Ian learns to catch kids from the tree, perform the Heimlich manoeuvre and be picked in the charity auction.
1 "Ian were there 4 sign offs on the binning of the pyramid as per clause c in the appropriate agreement?
2 What have the SFA done on behalf of Brora, Kelty et al in light of what happened?"
3 Are there any plans to review how the feeder leagues feed into the SPFL so that it is more equitable between the 85% of the population in the Lowland League zone and just 15% in the Highland League?
4 Why is the relegation spot from the bottom SPFL league not automatic and the 9th spot a play off position?  
As always if you want to discuss any issues or want me to look at any story or have something on any aspect you want to share, my email is Andrew@scottishfsa.org
The SFSA do not claim to own any of the included images and will be removed on request of the owner.
---
Posted in: Andy's Sting in the Tale, Latest News