SFSA Fan of the Year 2020 announced as Paul McNicoll
Date: 5th February 2021
At the SFSA, we are absolutely delighted to announce Dundee United supporter Paul McNicoll as the winner of SFSA Fan of the Year 2020!
As Scotland's national fans organisation, feel that we have a duty to promote our game to the very best of our ability by showcasing all of its positive aspects that cause us to follow our teams week in week out, come rain or come shine.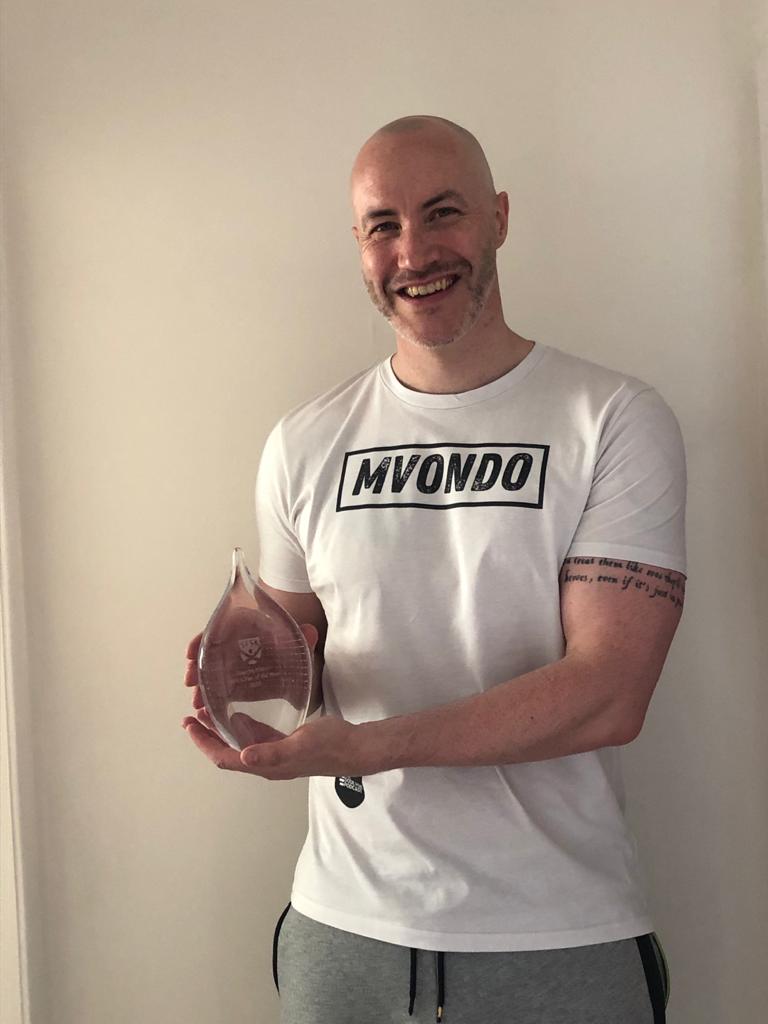 It is for this reason that since 2016 we have provided Scottish supporters with the opportunity to celebrate everything that is great about the game we love, by running Scotland's annual National Fan's Awards. These awards have been a great success with both SFSA members and non-members alike jumping at the chance, in their thousands, to vote for their desired winners in a number of categories.
2020 was a tough year for everyone, and as a result of the disruption caused by the Covid-19 pandemic, we took the difficult decision to scale back 2020's awards to just one category, Fan of the Year. Supporters were asked to submit nominations which were then verified and passed to an independent panel of judges consisting of Old Firm Facts, Stephen McGowan and Stuart Cosgrove, who then selected the winner.
After being informed that he was the winner, Paul said: "I'm actually stunned. I had no idea about this whatsoever and I'm kinda lost for words. I'm not the fan of the year in my mind, I'm just the same as every other frustrated punter this season, choking to get back in amongst my fellow fans and watch my team. Thank you very much though truly. This is massively surprising and incredibly humbling."
Paul first grabbed the headlines back in July when he and his good friend Andy Crichton set off on a sponsored walk from Tannadice to Tynecastle to raise funds for United's legal fight to retain their promotion to the premiership. As Paul explained: "there was a potentially large legal fee needing to be paid, due to the court process surrounding promotions and relegations, and we decided to try and raise some money for the club to put towards paying for this bill. Without Andy, and a few good mates supporting us along the way, there is no way that I'd have managed it. I think all in all just over £45,000 was raised. Amazing."
If Paul's fundraising heroics weren't enough to earn him celebrity status in Dundee, his successes with the Dode Fox podcast certainly are. The podcast, which Paul hosts alongside Ronny Costello, began with humble beginnings, providing popular culture and Dundee United craic, for the ordinary Dundonian in an unapologetically Dundonian dialect. Neither could have predicted that by October this year they would have had over 250,000 listens and merchandise orders coming from all around the city and even as far afield as Australia and the USA. Recent podcasts have even featured United legends such as Paul Sturrock and Hamish McAlpine. Their success culminated in the pair winning Scots Media Person o' the Year, in the Scots language awards 2020, which Paul described as "unbelievable!".
2ndplace was taken by Celtic supporter Andy Pingu, who after reaching out to someone he came across on Twitter struggling with suicidal thoughts, set up an popular walk and talk mental health group. Andy picks a different location every week and arranges for people to meet and go a walk and talk about any issues they may have. He also arranges for people to be picked up and dropped off no matter where they are so they don't miss out. He's even been known to treat all the participants to a fish supper come the end of the walk!
In 3rdplace came Raith Rovers supporter Ruaridh Kilgour. Ruaridh is the brains behind the "Donate a Ticket" website which was launched this spring in order to raise funds for Scotland's cash starved clubs. The innovative idea encouraged supporters to donate the price of a ticket at their club each Saturday, as if they are still going to the game. League tables and a virtual Scottish cup are further examples of Ruaridh's ingenuity when it comes to incentivising fans to give financial support to their clubs. 100% of the money generated through the website went straight to the supported clubs of those that donated, with Ruaridh taking no cut whatsoever. To date, the website has helped raise just over £300,000 for 129 Scottish football clubs, including over £21,000 for his beloved Raith Rovers.
---
Posted in: Latest News